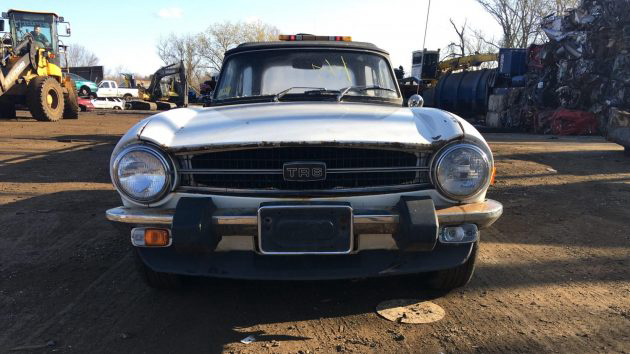 As we've reported before, Everett's Auto Parts in Brockton, Mass. is doing the world a favor and setting aside classic vehicles that would either make restorable projects or super solid parts cars. Their most recent update is shared here, starting with a solid Triumph TR6 that is still plated and looks drivable as-is. To find out the details on the true condition of any of the vehicles here, we'd recommend contacting the team at the yard or visiting them in person. You can find all of the relevant contact info here on Everett's Auto Parts website.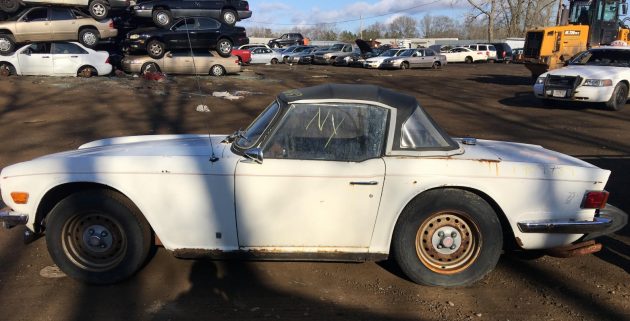 The TR6 definitely has some rust lurking, but what's most impressive is the overall completeness of the classic British two-seater. The top appears sound and the photos provided to me of the interior reveal a cabin that looks comfortable if not a bit tired, but hardly a cesspool of leaves and other damp detritus so common on British convertibles. The bumpers would be worth saving, along with any other piece of chrome trim, but I have a feeling the chassis is a tad crunchy.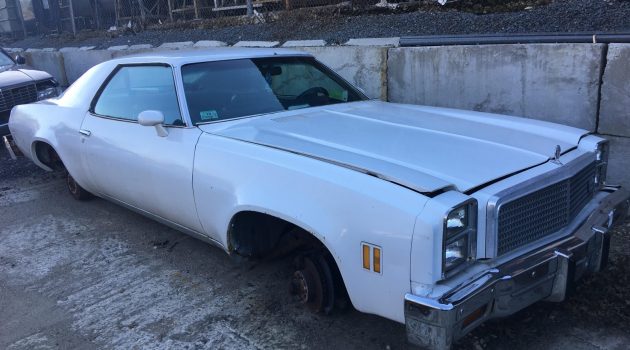 This 1976-1977 Chevy Malibu coupe looks downright solid, just a set of wheels and tires away from running around town and racking up impressive fuel bills. Unless this is a case of well-applied bondo, this body on this Monte appears straight and story-free, and the chrome trim on the bumpers, headlight surrounds and grill all looks better than what you'd expect to find on a snowbelt car in the junkyard.
Everett's has another Malibu coupe in the yard, this one appearing to be a 1975 model year example. Looking slightly more tired than the later example above but still quite presentable, these Malaise-era coupes can still shine up nicely with some upgraded suspension components and a suitable wheel and tire combo. A set of window louvers on the back glass wouldn't look entirely out of place, either.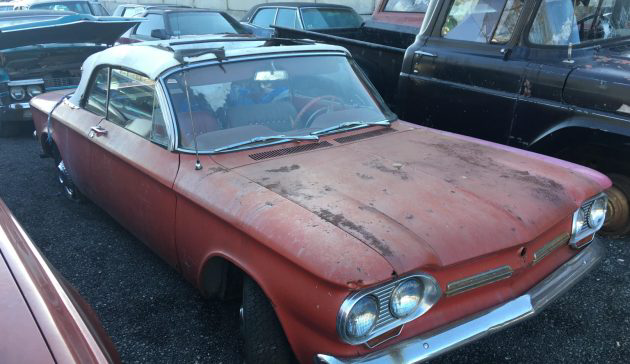 While you can see there are plenty of classics hanging out in Everett's dedicated storage area for vintage vehicles, this is the last update we have today. This Corvair convertible clearly needs a new top, and that gaping hole likely hasn't done the interior any favors. But a decent chrome front bumper and headlight buckets, along with reasonably straight body panels (though some rot-through is visible) could make this Corvair worth saving for parts as there are plenty of roadworthy projects available. But for the right price, any one of these classics may be worth restoring. Give Everett's a call if you want more information, and thanks to Alex for sending in the photos.