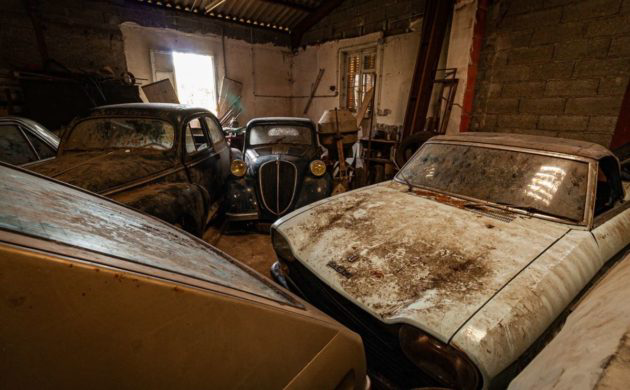 One of my most frequent automotive fantasies involves going off on a hike in search of a forgotten garage full of classic automobiles. I did this a few years ago with a friend off of a tip about a field of Porsche 924s and 944s left to rot in an abandoned quarry. We never found them (they had been removed by the time we got there) but one adventurer in Europe fared better than we did when he found a compound of sorts east of France littered with classic cars and seemingly forgotten years after they entered the premises. The full article and photos provided by the explorer were shared here on Classic and Sportscar magazine's website, which features many unusual classics like the Peugeot 203 saloon, Peugeot 304 Cabriolet and Simca 5 captured here.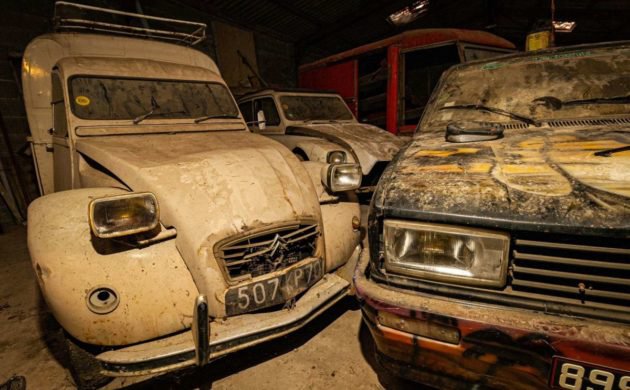 The origins of the collection are a mystery, as there's apparently no owner checking in on the vehicles and the village where they are hidden is quite remote as well. The article doesn't detail any specific information about how the vehicles came to be stored here, but given the grounds are littered with classics in less restorable condition, it would seem likely that they are the remains of a private collection that was left behind when an owner passed away or left the sleepy community behind. Pictured here are a pair of Citroens Dyane and 2CV Fourgonnette vans along with the company's top-shelf sedan, the CX.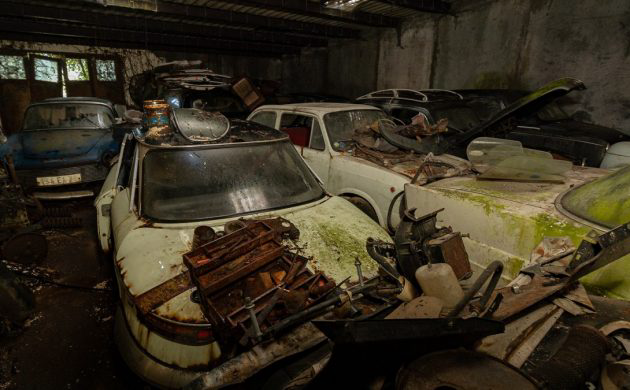 Although impractical, hiding a large stash of vehicles in the woods makes some sense to me, especially if they are non-runners I hope to restore someday. Free from prying eyes (well, until now) and neighbors who complain about project-grade vehicles, here they can sleep in peace until life allows for their rejuvenation. In this photo, you'll spy a Facel-bodied Simca Océane, Panhard 24CT, and Fiat 850 saloon. Please note, the editors at Classic and Sportscar magazine are responsible for identifying these vintage vehicles, most of which are French in origin.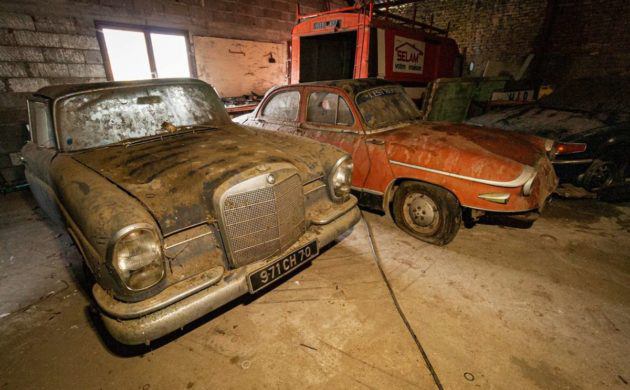 There's a bevy of commercial-grade vehicles as well, and also some British, Italian, and German vehicles. Lancias, Jaguars, MGs, and Mercedes can all be found scattered throughout the property, such as this Panhard PL17 parked next to a handsome Mercedes "fintail" sedan. There's several more of the oddball Panhards on the property, which was a major clue for me that this property has been scouted by explorers before – the fleet of junked Panhards outside of the buildings is an image that's hard to forget. While there is a tinge of sadness to the photos that some great cars have been forgotten, there's also an argument to be made that they belong to someone and should be allowed to rust in peace.