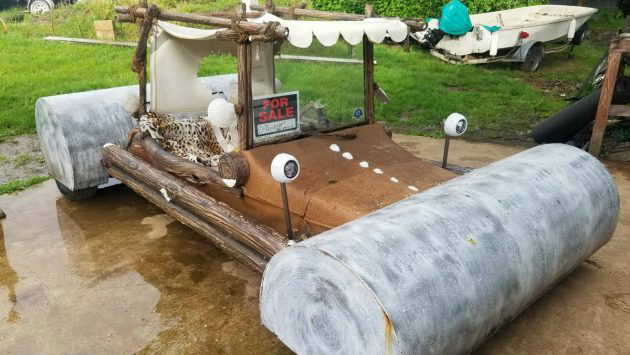 For those of you that have never seen The Flintstones, you'll have to bear with me for a moment. However, for those of us that are children of the 1960's, 167 episodes of a primetime cartoon series that ran from 1960 to 1966 (and forever in reruns) in the USA has permanently etched Fred, Barney, their families and their foot-powered, rock-wheeled cars into our brains. This decent, Honda-powered street legal representation of Fred's car is being offered here on craigslist for $9,999. It's located in Vancouver, Washington, despite being licensed in Oregon. Thanks to Kevin F. for this amazing find!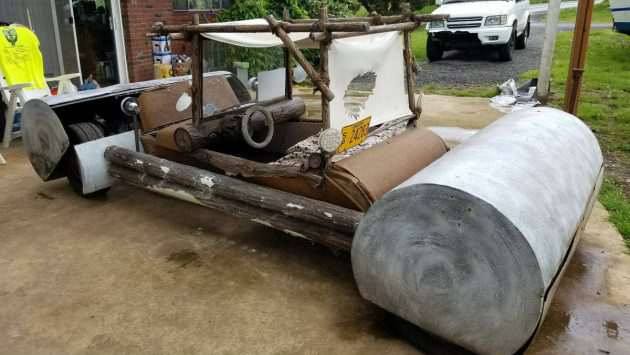 As you can see from this Time magazine article, Fred's car was named one of the top 10 fictional vehicles of all time. You can see it in action in this montage of the opening and closing credits to the show. This car, however, isn't foot-powered; it has a Honda Civic engine hidden in the front "roller". You can see the roller "hood" partially open to the left of this picture.
Of course, a Flintstone car had to have saber-tooth tiger skin seat upholstery! Close ups of some of the frame structure looks like the "logs" are actually plastic-covered metal, so it might be stronger than it appears at first glance.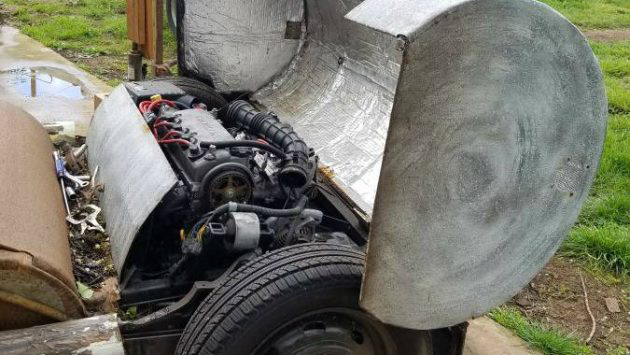 The collection of tools in the groove above are a little worrying, but the seller does state that it's been driven 50 miles since completion. Hmmm, I think I'd want it debugged a little more than that. At least the tires have good tread on them. We're not given any other details as to the mechanical makeup of the car, but I suspect more Honda parts were used. The frame may be a home built, though, as it looks like there's some angle iron involved, possibly mated to parts of the 1997 Civic engine.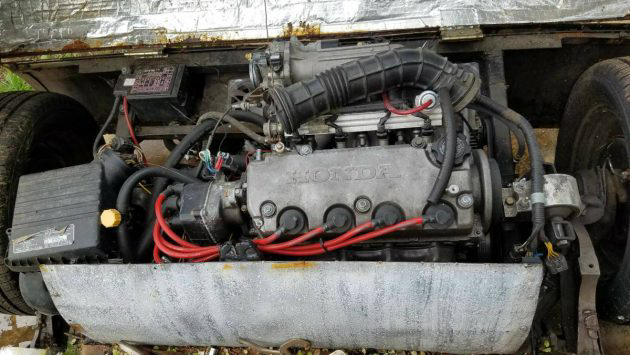 Although we're told the power plant is a single overhead cam, non VTEC version of the Civic engine, we're also told that it's been rebuilt with "12:1 P28 pistons." Does that make you say "Yabba dabba doo?" (Fred Flintstone's catch phrase) If so, let us know!