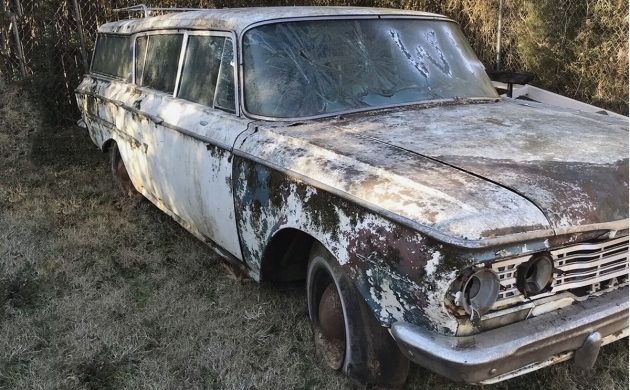 If you're looking for a quick project, this 1962 Rambler Ambassador 400 Cross Country wagon isn't it. Unless you have a tv reality show, those guys can nut-and-bolt restore a car in this condition in three days, all while throwing wrenches at each other and other lame shenanigans. The seller has this one listed here on eBay in Little Rock, Arkansas and there's an unmet opening bid of $100 that nobody has been brave enough to click on yet.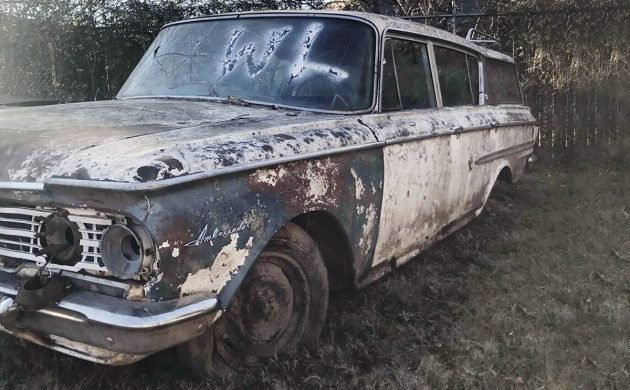 Yep, this is a very cool car but a very rough car. Being "All Welded Single Unit Construction", and showing a lot of rust, that's usually a bad combo. You can even see a gaping rust hole above that body tag, ouch. This car was originally Baron Blue Metallic and Frost White, a very nice combo. It's still sort of blue and white with a big helping of moss, rust, primer, and other colors thrown in.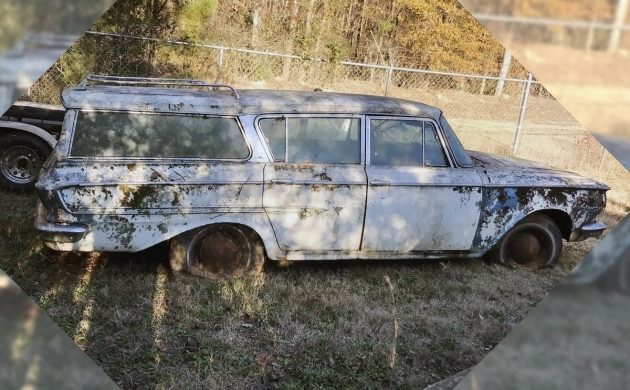 The third-generation Rambler Ambassador was a one-year model made for 1962. It was more of an evolution than a revolution from the second-generation cars. They were somewhat antiquated compared to the 1963 fourth-generation cars, which were named Motor Trend's Car of the Year along with the entire 1963 Rambler line. I love the vintage look of the 1962 Ramblers but maybe it's because I'm also a 1962 model myself. Plus, who doesn't like a Cross Country wagon?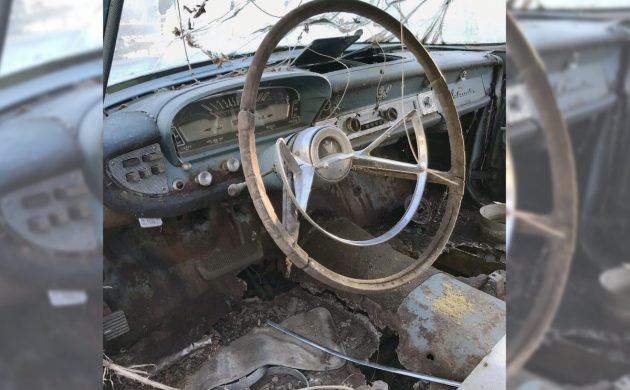 Whoa, there's a lot of welding to do here, are you up for that? I have done some welding and patching in my day but nothing this extensive. I know that a few of the Barn Finds team and the readers have done some extensive restoration projects and could tackle this if they wanted to, or had the room for yet another project. This is a major project, there's no getting around it. I don't know if this one will make it out of the woods but I could be wrong. The seller says that it has full power, which I'm assuming means power brakes and steering, but it also has factory air-conditioning!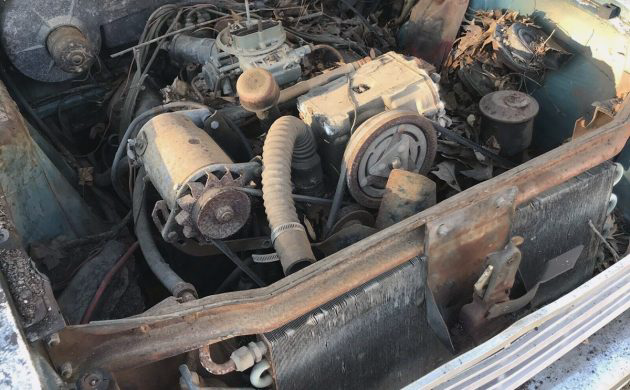 The only engine available was AMC's 327 cubic-inch V8 with around 250 horsepower, which wasn't a bad thing at all. It's interesting seeing a generator there rather than an alternator which would be on the next-generation cars. There's quite a bit of debris under the hood, unfortunately, but the other engine photo shows it with the air cleaner assembly on so hopefully that kept some of that stuff out of the engine. There's no word on it it turns over but hopefully it does. Is this one way too far gone or is it salvageable?