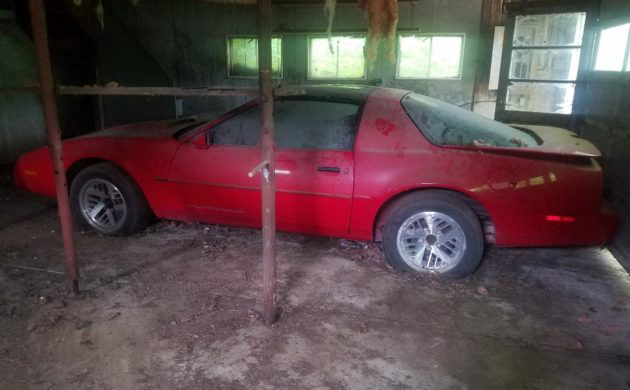 This 1991 Pontiac Firebird Formula was discovered parked and forgotten in this shed by its current owner. It cut a pretty forlorn-looking figure, having sat unloved and neglected since 1996. It has now emerged from hiding and been returned to active duty. The transformation of this barn find has been pretty incredible, but with a new lease on life, the Firebird is set to go to a new home. If you think that the new home could be yours, then you will find the Pontiac located in Waterford, New York, and listed for sale here on Barn Finds Classifieds. The owner is asking $12,500 for this revived classic.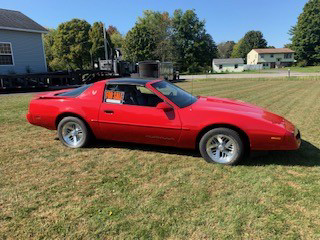 Now that's a pretty decent sort of transformation. After emerging from hiding covered in dust and debris, the Bright Red paint on the Pontiac now glistens in the sun. The body looks to be straight and clean, with no signs of any noticeable dings or dents, and nice consistent panel gaps. The owner makes no mention of rust issues, and from that respect, there is certainly nothing visible. I really wouldn't expect to see any problems anyway, because unlike the situation not that many years earlier, GM was really getting on top of their game when it came to rust preventative measures by the 1990s. The original alloy wheels have been replaced, and the new wheels also sport new center caps and a fresh set of tires. The glass panels for the T-Top also look like they are in good condition, and most importantly, there are no indications that moisture has been able to find its way around the T-Top seals to potentially inflict damage on the Firebird's interior.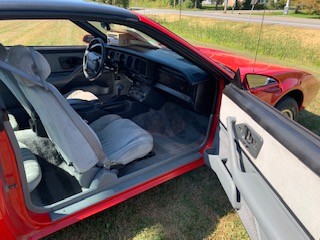 It is really no surprise to find that the interior of the Pontiac presents very nicely. Sometimes when these classics are found parked as this one was, at least one of the windows can be left partially open. This can cause all sorts of damage. In this case, those windows were tightly closed, preventing anything from finding its way in. The interior condition has been further aided by the fact that during the car's 5-years of active use, it only managed to accumulate 39,000 genuine miles. That has reduced the chances of the interior suffering any significant damage, and judging by the interior of this car, it was treated with a decent level of respect during those 5-years. The grey upholstery all looks like it is in very nice condition, while the carpet also looks to be free of wear or stains. The plastic seems to be free of any problems, and this is especially true of the damage-prone plastic in the cargo area, which doesn't have a mark on it. The Firebird also comes with a great collection of documentation, including the Owner's Manual, the Warranty Book, the Build Sheet, the original Window Sticker, and CarFax. It isn't clear exactly what equipment the Firebird has been fitted with, but it looks like it comes with a driver's airbag, power windows, power locks, and an AM/FM radio/cassette player. There is also air conditioning, and this has been fully rebuilt, including a new dryer, new condenser, new receiver, new lines, and it has also been retrofitted with a kit for R134A refrigerant.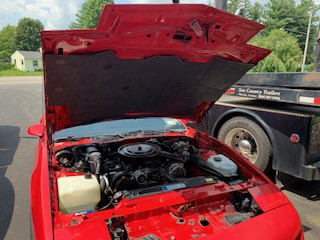 Popping the hood on the Firebird reveals a 305ci TBI V8, a THM 700R4 4-speed automatic transmission, along with the WS6 suspension package, power steering, and power brakes. This might not rate as the most potent combination to ever find its way into a Firebird, but it is still able to spring some pretty decent surprises. By this point in time, GM was less focused on outright engine power and had turned their attention to clever engineering and aerodynamic efficiency. As a result, with 170hp at the owner's disposal, the Firebird was capable of not only topping 131mph but was also capable of returning fuel economy in excess of 20mpg. Both of those marks would be out of the reach of a Firebird in any guise during the more "muscular" days of the late 1960s and early 1970s. You really can't help but be impressed by that. With this Pontiac, it did need some work after sitting for more than 30-years, but this has been completed, and the vehicle is now in good mechanical health. Work completed includes new front brake calipers and hoses, along with a new fuel pump, filter, and sending unit. The air and PCV filters have been replaced, as have the distributor cap, rotor, muffler, tail-pipes, along with the tensioner pulley and belts. The owner says that the Firebird now needs nothing…except a new owner.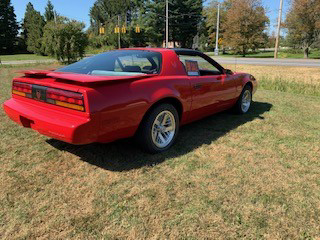 After spending so many years forgotten and neglected, it is always great to see cars like this 1991 Firebird Formula emerge into the light of day and to be returned to active duty. This is an attractive car, and the combination of its overall originality, documentation, and extremely low mileage marks it as something a bit special. There is no doubt that it is a car that would attract plenty of attention, but somehow, the image of cruising down the open road on a sunny day with the T-Top panels removed is one that is hard to resist. That's the sort of experience that this car will be offering to its next lucky owner.