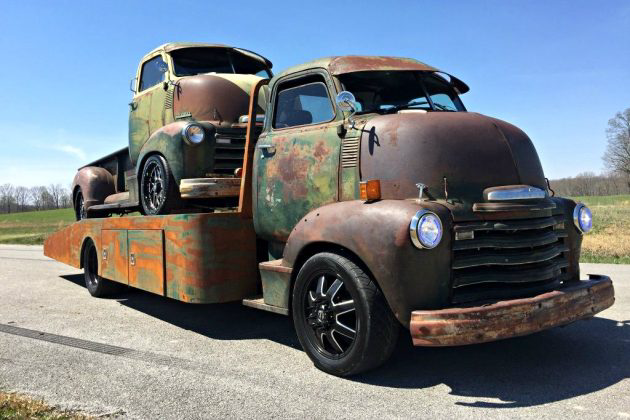 I always like to see these old Cab Over Engine trucks being put to use. Sadly many of these trucks sit by the wayside as parts, and restoration are typically higher than the value of these old trucks. Although this COE may not be a purists dream, it is fantastic that someone has built up this truck into a once again useful vehicle. Upon listing both trucks for sale, the seller sold the smaller COE pickup, so this auction is solely for the COE hauler. Packing a modern drive-train, and a unique appearance, this Chevrolet is currently bid up to $19,600 with the reserve not met. Check it out here on ebay out of Pine Knot, Kentucky.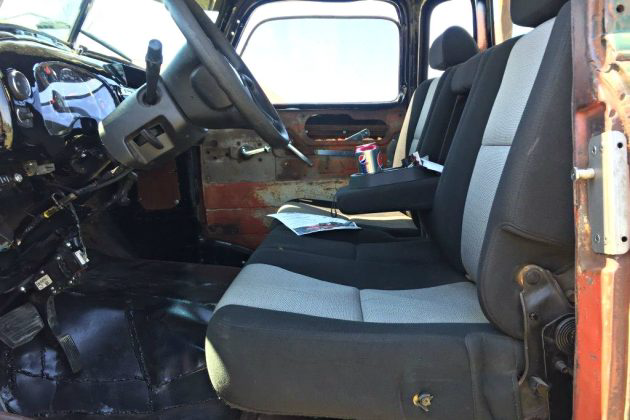 Within this classy old cab is a bare bones interior that could certainly be improved upon. There is a modern steering column, seats, and a gauge cluster linked to a 2011 6.6 liter Duramax lml engine with a brand new GM transmission. Unfortunately there are no pictures of the drive-train, or from the build of this cool re-purposed truck. I would look into sprucing up the interior and door panels to add to the classic looks, but modern function. The modern gauge cluster is nicely sculpted into the dash yielding a nice finished appearance.
Beneath this classic Chevy is a 2011 chassis, and brakes. The 19 foot hauler bed is from Hodges custom haulers, and has been painted to give a matching patina to the cab. There are 4 tool boxes built into the bed, and there is also an electric winch. There are modern alloy wheels fitted which certainly do the job, but I would personally like the look of a steel wheel to keep a rather stock and unassuming appearance. Driven and towed many miles, this COE is solid, and has all the necessary lights and equipment to be road legal. There is a title, but the only thing that could make this truck a little sweeter would be if it had functioning air conditioning. No hints have been given as to whether there is any climate control in this truck, but I am sure someone could add it, if not already installed. The COE body is solid, but there are dents on the rear portion of the passenger fender, and the driver fender has a loosely worked out dent below the headlight. Guaranteed to get looks no matter what you may be towing, this Chevy would look fantastic towing a patina'd car to the next big car show. Are you a fan of this Chevy COE?