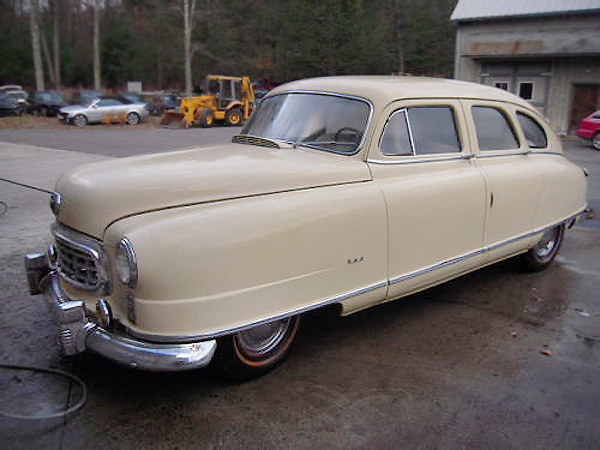 Even though it isn't Saturday night, it's time for your weekly bath! This bathtub is a 1949 Nash Airflyte 600 and it's on eBay with an unmet opening bid of $2,000 and there are only two days left for someone to jump in, or jump on this auction. This one is located in West Shokan, New York. There is also a 1951 Nash Statesman Special parts car that comes with it! According to Nash literature of the era, "Now you've seen EVERYTHING in postwar styling! No more ugly fender openings! Now a complete sweep of racing curves from massive front to perfect tear-drop back . . . from road to roof . . . and inside and out! Every line sings with action! There's nothing like it on the road."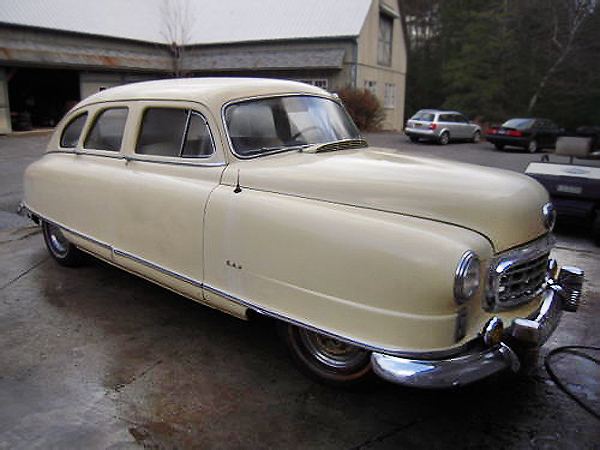 Most of you already know that this era of the Nash was known by the bathtub nickname, obviously from its shape. The Nash 600 was made until 1949 and then the company renamed them as the Statesman. The 600 was named as such, reportedly, because of its ability to go 600 miles on a single tank of gas! It was also the first mass-produced unibody car in the US when it came out in 1941. They saved around 500 pounds in weight by eliminating the separate frame, that's not an insignificant amount of weight, to say the least.
Yep, it's easy to see why they got the nickname of the "bathtub". This is a four-door sedan but they also made a two-door sedan in the same basic body style. In 1949, this new design was introduced based on the Airflyte series. The 600 was the lower-end series that competed with Plymouth, Ford, and Chevrolet, compared to the Nash Ambassador which moved up a notch to compete with Oldsmobile, Buick, Chrysler, Hudson, Mercury, and DeSoto. This particular Nash 600 looks really, really solid, but it has been stored in a barn for over 25 years and it'll need some restoration work.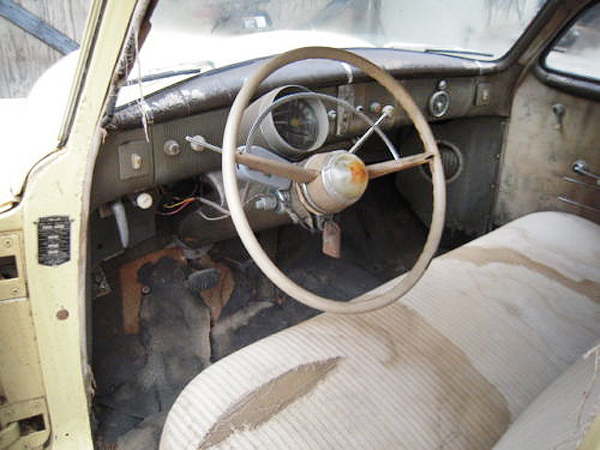 You'll need new upholstery, windlace, door cards, and a few other things for the interior. If you don't have enough legroom in the back seat area of a 1949 Nash 600, you know that you're taller than most humans are. The trunk has a 28.5 cubic-foot capacity so you'll have room for luggage for every one of your passengers. This would be a fantastic road trip car, smooth and quiet. Those enclosed wheels at both ends and the overall shape generated just 113 pounds of drag at 60 mph! Not to mention the unibody construction cutting down on squeaks and creaks. Jump in with 3-4-5 of your friends and go 600 miles between gas stops.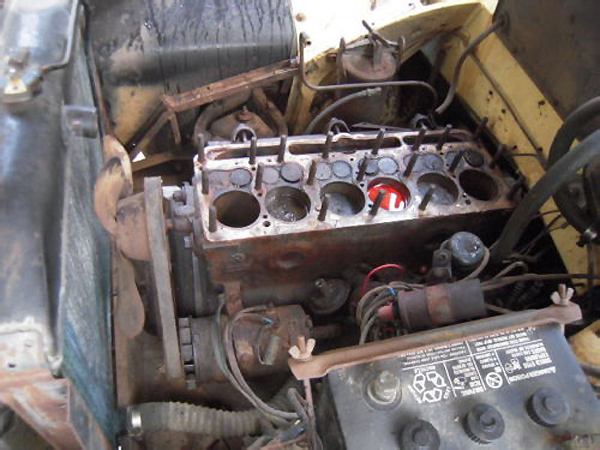 But, before you hit the road, you'll have to do some troubleshooting to do in the engine compartment. This Nash 173 cubic-inch inline-six with 82 hp is apparently stuck from being stored for so long. It's always unsettling to see an engine partially disassembled, you never know if everything was saved or how it was taken apart or if the parts are all there. I'm sure that most of the Barn Finds family of readers could have this engine purring again in no time.  Are there any fans of these bathtub Nashes out there? Would you restore this drivetrain or turn this car into a sleeper?