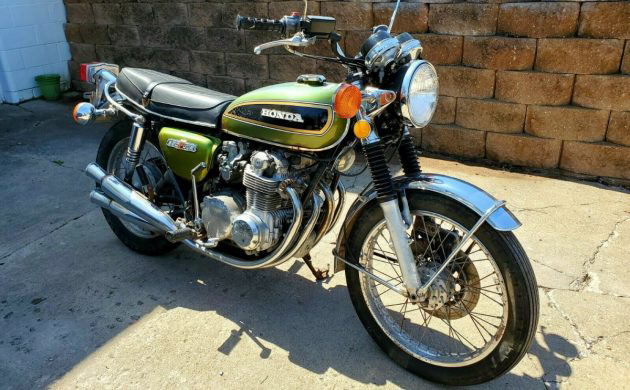 A few weeks back, we covered this 1973 Triumph Bonneville. We had a pretty lively discussion around not only those that owned one but what was responsible for essentially knocking Triumph out of the marketplace. Most seemed to agree that it was the rise in popularity of Japanese motorcycles and today we are going to cover just such an example in the form of a 1975 Honda CB550. It is located in St. Joseph, Missouri and is available, here on eBay for a current bid of $2,550, with 31 bids tendered so far.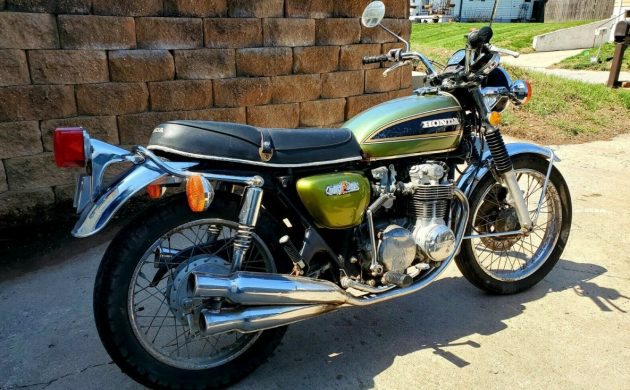 The CB 550 (some say CB stands for "City Bike" while others say that it has no meaning at all) was the little brother to the better-known Honda CB 750. It shares similarities in design but is more compact and lighter in weight (about 400 lbs.). It actually started life in 1971 as the CB 500 and grew to 550 CC displacement in 1974. By 1978, the 550 was history as it was replaced by the CB 650.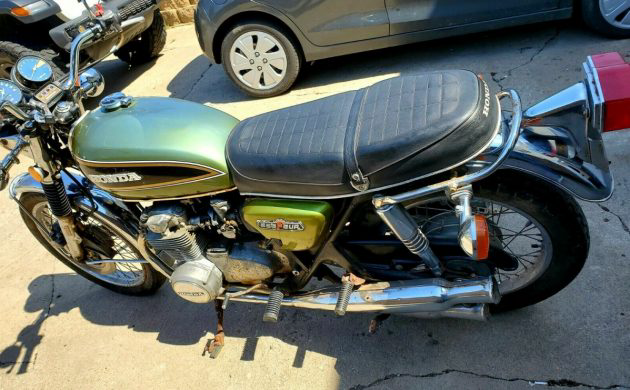 The seller tells us that this 5,200-mile example sat for 3o years and was made operational about four years ago before being stored again. All in all, it presents itself pretty well, strong chrome, intact seat, and no evidence of a lay-down or a knock over though the seller mentions that the left side cover is cracked. There may also be some surface rust brewing on the lower edge of the fuel tank but it appears to be minor.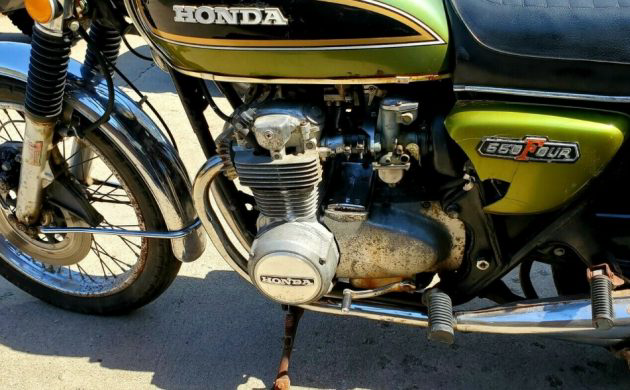 The engine employed here is a 50 HP, 550 CC, in-line, SOHC, four-cylinder, air-cooled arrangement working through a five-speed manual gearbox that is chain connected to the rear sprocket. The seller recently started it and apparently it kicked to life on the second attempt. But he admonishes, "Starts but will obviously need gone through to be roadworthy. Great candidate for restoration or cafe build. Don't expect to hop on this thing and go down the road, needs tires/brakes bleed… needs gone through". It apparently "needs gone through" twice!  At least he didn't claim that it "has been gone through" which many sellers use to describe their sale vehicles. I don't know what that really means, it seems like a throw-away line for something that they may or may not have done to their sale candidate.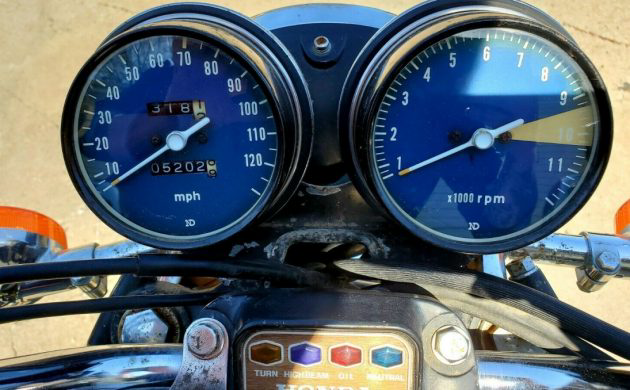 As for the seller's suggestion of performing a restoration or building a cafe race, I think I would "go through" this bike, make it safe, reliable and just enjoy it as it is. We lose track of time and it wasn't too long ago that 1975 seemed like yesterday, but it wasn't, 46 years have passed since then! And this 1975 Honda is just old-school enough to be a simple and pleasant reminder of a less hurried past, wouldn't you agree?