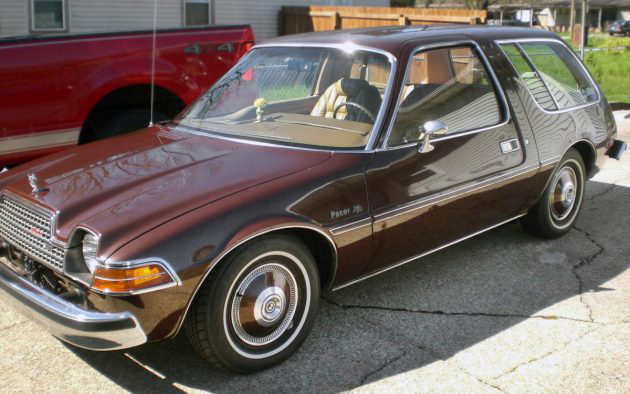 So, you're sitting around one day, either bored, or after a couple of adult beverages, or maybe you're just trying to think of your next project. You start thinking of crazy things to do with a vehicle and you start to wonder if you could somehow sink a 500 cubic-inch Cadillac V8 into a Pacer wagon? Here is the result of that experiment: a 1978 AMC Pacer Wagon with a Cadillac 500 V8 in it! This front-heavy sleeper is here on craigslist with a $6,000 asking price, and if any of us have learned anything over the last year or two, six-grand isn't a bad price for a regular Pacer wagon. I wonder if the next owner of this car could drive it home from its current home in Louisville, Kentucky?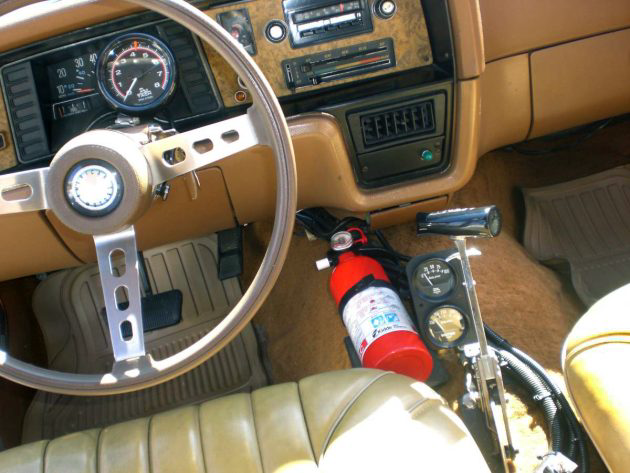 This car would indeed fall under the radar, exterior-wise, but once the highway patrol officer finally caught up to you, pulled you over, and walked up to your window, they may reach for one of those really big foamcore speeding tickets, sort of like the checks that Bob Barker used to hand out on The Price is Right. Yeah, one of those. This is anything but a stock AMC Pacer interior, at least judging from this one and only interior photo. That non-Kenosha shifter is for the BOP (Buick, Oldsmobile, Pontiac) transmission under that be-gauged hump. A fire extinguisher in a Pacer? Maybe to cool it off from the hades-like heat in these cars due to the fishbowl windows and an AC system that could never seem to keep up, but not for any performance reason, usually, unless there's something other than a 258 or a 304 under the hood.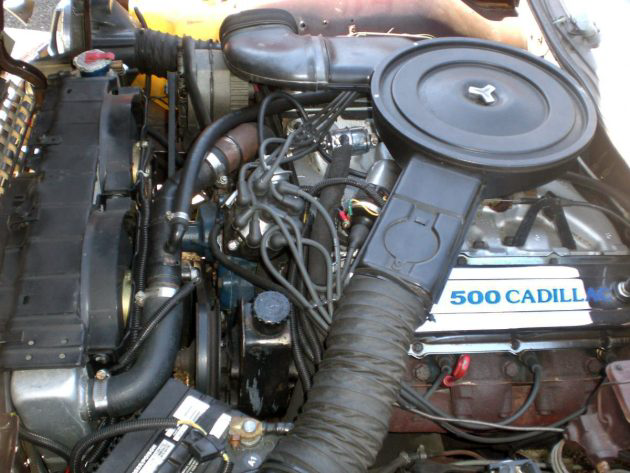 Which there is. The seller has owned over 150 AMC cars over the last five decades and is a super-fan, and, apparently, a super-fabricator. He built this fantastic fantasy 14 years ago and it's "one of his signature cars" so he hates to sell it, but age has a way of getting in the way sometimes. In case you're wondering about all of that weight, it's mounted to a "2×2 box tube tied sub-frame." For the record, a Cadillac 500 V8 only weighs around 65 pounds more than an AMC 304 V8 does. That's less than the side of beef that you could cook on the manifold as you drive it home from Louisville. I'm a big AMC fan and even a Pacer fan and I normally like things bone-stock, but I love this build! By 1978, AMC's 304 V8 had 150 hp. There is no word on the horsepower that this monster engine puts out, but if it's a stock, factory Cadillac 500 V8 it would have had anywhere from 190 hp to 400 hp and anywhere from 360 ft-lb to 550 ft-lb of torque! One of you will know which engine this is by looking at it, I'm guessing. In any case, horsepower notwithstanding, this is one super sleeper!