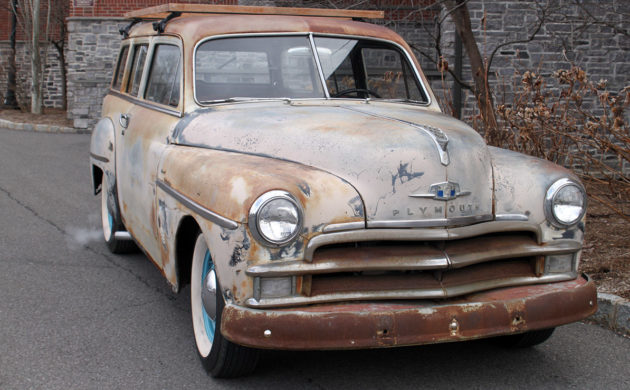 Yesterday, we covered an article on an '82 Chevrolet Malibu station wagon and a commenter suggested converting it into a two-door station wagon. There was also a posting yesterday for a '57 Chevrolet Nomad, Chevy's famous two-door station wagon from the mid-fifties. And this focus on two-door wagons got me thinking about the entire genre. For my money, yes, I think a two-door arrangement for a wagon makes for a better-looking car. Especially one that is going to undergo hot-rod style modifications. At the same time, the entire concept makes me think why a two-door wagon? Aren't station wagons supposed to be about functionality and convenience? How does that square with only two-doors? Well, like many things it did until it didn't. Short of an economy compact car like a Vega or a Pinto, I don't recall a two-door station wagon being made past '65 and that would have been a Chevrolet Chevelle. There was a time however when they were popular and here's a model that receives very little press, a 1950 Plymouth Suburban two-door station wagon located in Woodstock, New York and available here on eBay for a current bid of $11,000, 34 bids tendered as of this writing.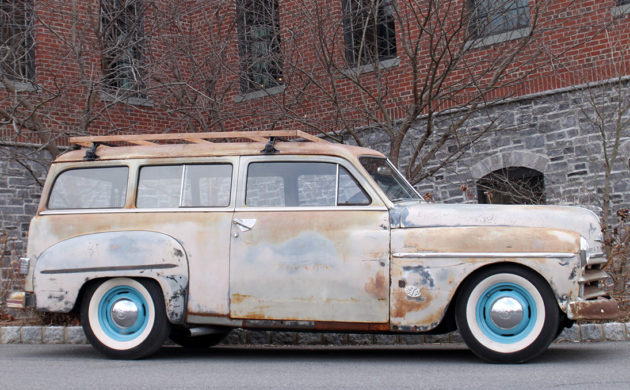 In 1950, Plymouth offered two station wagons, a four-door, wood-trimmed "Special Deluxe" and a two-door "Deluxe Suburban". I'm not sure that I have ever seen either in the actual steel, at least not that I recall. Our example is a complete frame-off restoration that has left the patinaed (there's that dreaded "P" word) body finish intact. The goal was to create a "surf-wagon" theme and I think the seller has been successful. There is a very extensive collection of before-and-after images included in this listing so be sure to check them all out.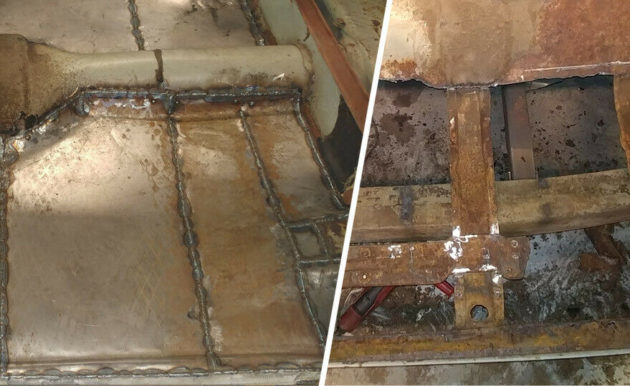 There is a significant amount of metalwork that has been performed on this Suburban so there's no cause for concern regarding rot, disintegrated floors/frame or weakness of integrity. While there is some surface rust mixed in with the patina, it is just that surface rust that has been allowed to collect on patched body panels. The seller states that yes, of course, this Suburban can be painted but he's not going to do it though he has the capability, that would be up to the new owner. The seller adds that he has left the original steel wheels and small center hubcaps in place, with original style tires, to capture that period look. He does state that the tires should probably be replaced due to age.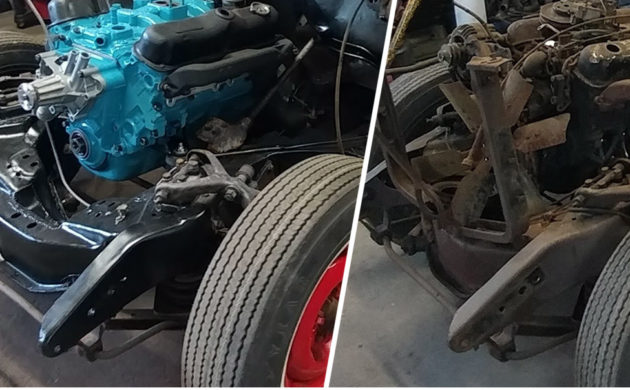 Mechanically, there have been some really nice upgrades, such as a 318 CI V8 "LA" engine, though that motor was in this Plymouth before the restoration started, front disc brakes and a modern Jeep Cherokee differential. While the engine has not been rebuilt, it has had a replacement water pump, distributor and all new gaskets installed. The only original drive component appears to be the three-speed, manual gearbox. The seller states that it works fine, so he left it in place but he is willing to rebuild or replace it, for extra cost, if a buyer so desires. There isn't much elaboration on how well this Suburban runs and drives but the seller invites interested parties to check it out and see for themselves.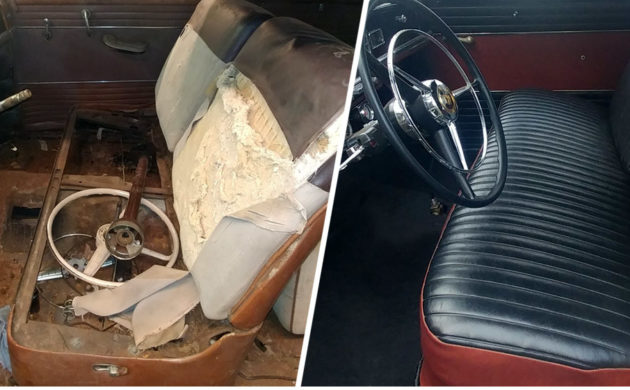 The interior is magnificent! It has been completely restored; dash, gauges, upholstery, door cards, carpet, steering wheel, the whole enchilada, and very, very well done. It would seem to be a very inviting space and is further augmented by a manual floor-shift and under-dash auxiliary gauges.  As with so many cars from this era, this Plymouth has a heavily chromed and intricate instrument panel, it's nice to see that it has been restored and left as originally designed.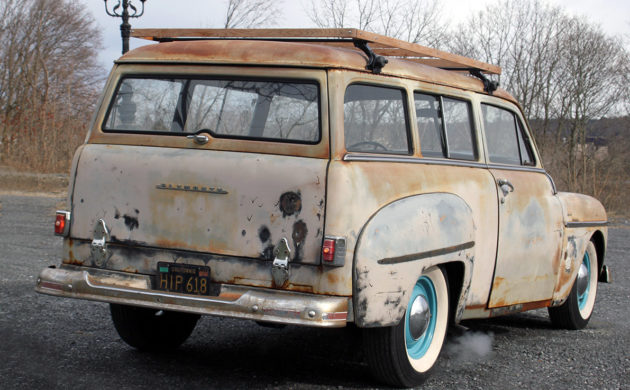 There's a lot to take in here (including the neat surfboard roof rack). There isn't a reserve listed in the auction listing and considering the level of professional restoration that has occurred, it's easy to assume that more has gone into this Suburban that will be realized when the auction concludes in two days. With 34 bids (don't know how many actual bidders) there is a bit of interest being generated in this truly unique offering. The "patinaed" look isn't everyone's cup of tea but regardless, you have to admit this restorer has done a tremendous job on this old Suburban wagon, don't you think?