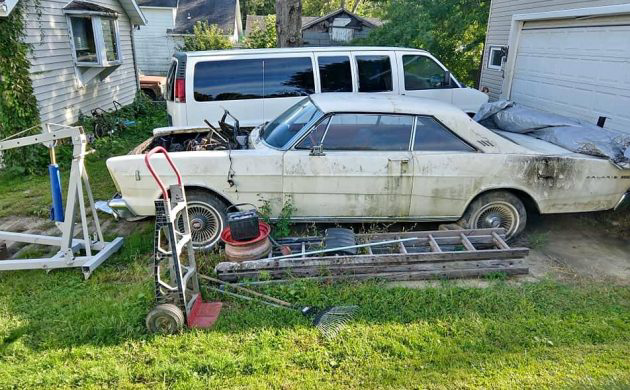 A twofer! That's right, get two 1966 Ford Galaxies for the price of one. Where? Ashtabula, Ohio and listed here on Facebook Marketplace for $4,000. I can't tell you a lot about these Galaxies because there are only four images and little text to describe them. So, let's take a shot at it.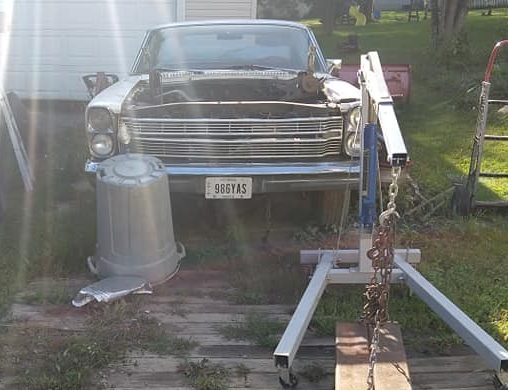 Galaxie #1 is a two-door hardtop which originally had a 289 CI V8 engine. The seller claims, "which is out I was going to rebuild it decided not to don't have time but I do have other engines more 390/429/460/352/400 modified and automatic transmission". So no, it doesn't run, you'll have to come up with an engine and it sounds like a transmission too. There is no reference to the interior or the overall condition of the body, frame, suspension, etc. The three images show a body that actually looks to be in pretty good shape but sitting outside on grass and dirt is not going to help with the cause. This hardtop may have some further use in terms of roadability and being able to be brought back to life but it may be destined as a "parts only" candidate too. There is not enough information here to know for sure.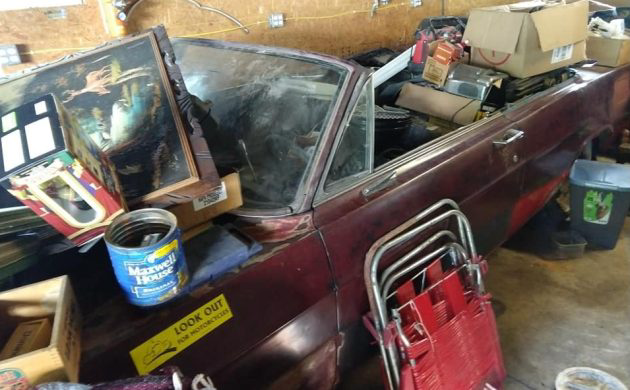 Galaxie #2 is a convertible which is equipped with a 390 CI V8. It's really hard to tell exactly what it is as it is buried under a mountain of stuff. I actually spent more time looking at the stuff then I did the car because there is so little of the car visible. Generally, a 390 V8 equipped '66 Galaxie convertible is going to be a collectible draw but not in this case. The way the seller has this convertible presented creates more of a, "Move along, nothing here to see" scenario than will it engender any real interest on the part of a potential buyer.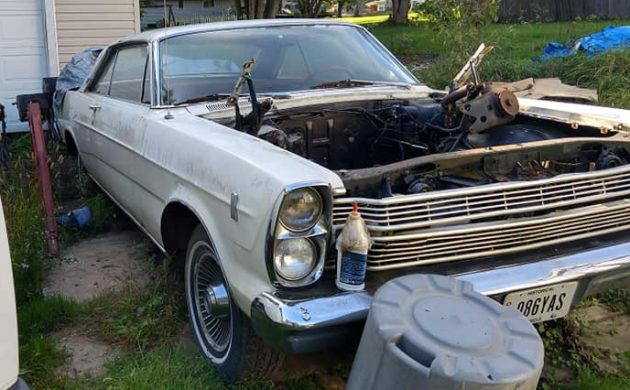 Domestic automobiles, regardless of brand, had the tiger by the tail in '66 and the Ford Galaxie, in particular, was a really sharp looking car. They have not reached the desirability that their cross-town rival, Chevrolet, has attained with the Impala but they are still not cars to be trivialized. And that draw spread throughout the GM hierarchy as well as over at Mopar too. The National Traffic and Motor Vehicle Safety Act of 1966, which spawned the National Highway Traffic Safety Administration (NHTSA) in 1970, had not yet been enacted when the '66 models were designed and built, so they were pretty much a blank canvas of what the automakers wanted to do; and do it, they did. There could be value here with this forlorn pair but who knows, the promotion is very poorly constructed. So, is there a pony at the bottom of this pile or is this a case of where all you need is a bumper sticker that states, "My other car is a piece of you-know-what too"?