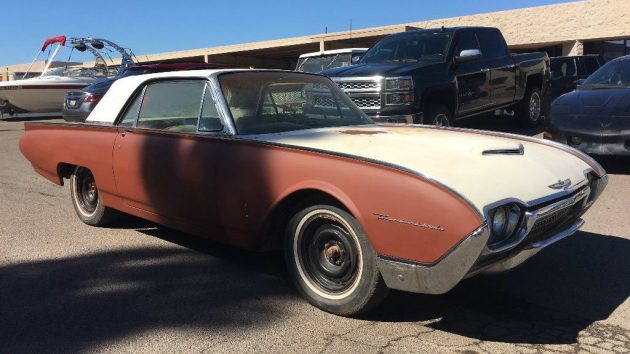 It looks like someone tried to start on this 1962 Ford Thunderbird project but didn't get very far, and stopped in a hurry. You'll have to decide whether it's worth trying to finish it or not after looking the auction over here on eBay. Bidding is currently at only $405 and there's no reserve, so it's going to sell for sure! The primer, white and rust Thunderbird is located in Gilbert, Arizona.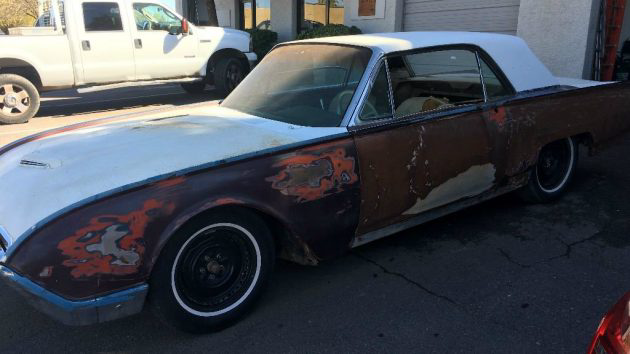 I'm sad to report that the left side of the car is where the project seems to have stalled. That dark brown in the middle and rear is actually surface rust, and although I can't tell for 100% sure, I'm confident some of the other stuff you see in this picture is body filler. The seller says the driver's door is "rough" and that there is a dent behind the door as well. They also speak of some small rust holes in the front passenger side floor pan and in the trunk.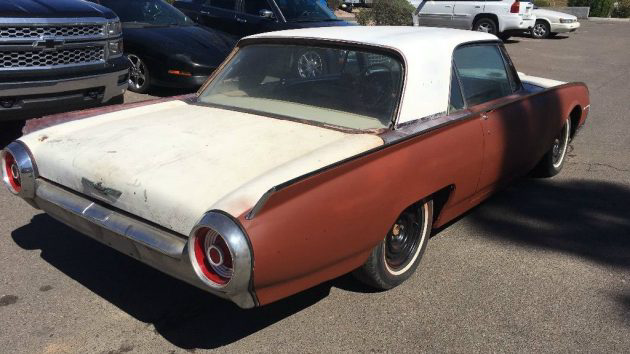 Although the tires don't look bad in the pictures, they must be very old as the seller says they aren't suitable for driving. The fender skirts go with the car, as well as all the trim that has been removed. The chrome appears okay for a driver, but there is some pitting obvious in close up pictures.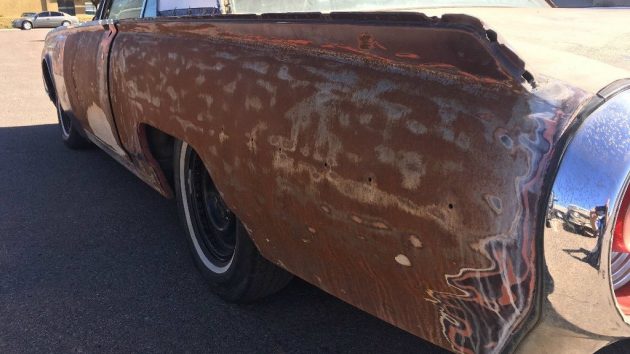 Here's the best shot of the damage behind the door and of the surface rust. I think it will sand off as the seller states, but plan on using a surfacing primer to deal with the remaining scratches and pits.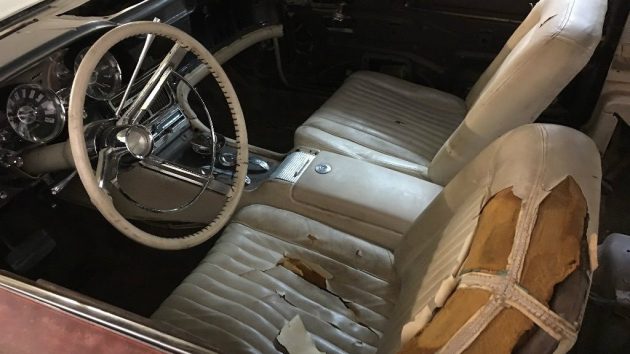 On the inside, you'll be busy. The door panels are included despite not being installed, as is the back seat. A full upholstery kit plus installation will be needed eventually. I suppose a set of FLAP (Friendly Local Auto Parts) store covers would do for the moment if you were on a budget; I've certainly done that enough times until I could afford to fix things properly.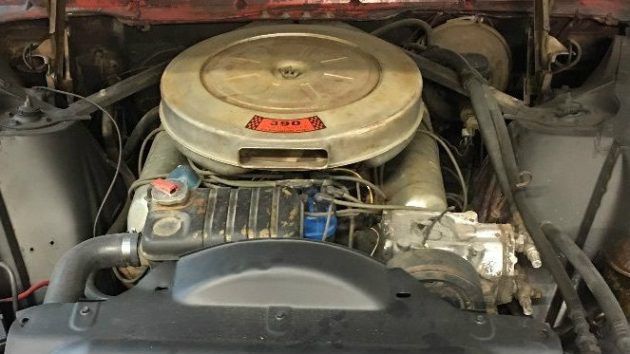 The 390 cubic inch V8 is said to run "strong" but that it needs exhaust gaskets, carburetor gaskets and a tune up. The air conditioner doesn't have a belt, so you can assume you'll have work there as well, but at least it had a system. In any case, it's a running Thunderbird for less than $1,000 at the moment! That makes it worthwhile to me! What do you think?