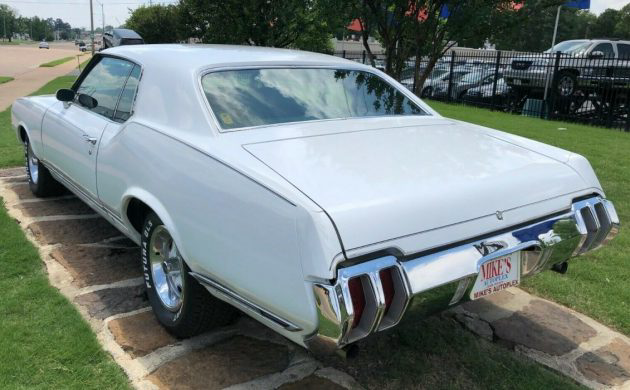 There was a dizzying array of Oldsmobile intermediate models offered in 1970, a multitude of body styles that no automotive producer provides today. And when you mention Cutlass, the conversation usually turns to either a 442 or a W-31 in "Sports Coupe" mode (a pillared coupe with framed doors) or a "Holiday Coupe", which is a traditional two-door hardtop. The Cutlass Supreme, the top of the Cutlass heap, had been around for a few years by '70 but it now earned its own formalized roofline. And what do you know, here's just such an example, a 1970 Cutlass Supreme Hardtop Coupe, located in Memphis, Tennessee and available here on eBay for a current bid of $8,400, sixteen bids tendered as of this writing.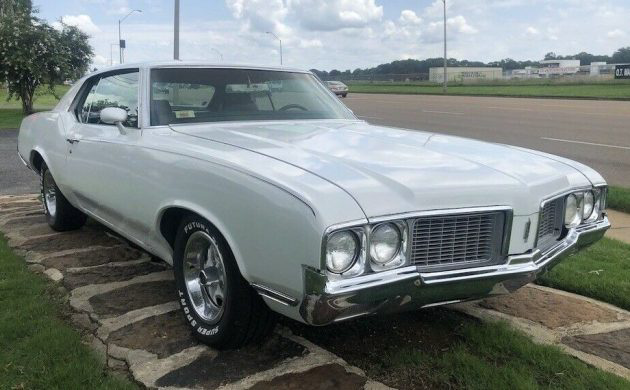 The performance-oriented 442 version of the Cutlass gets most of the attention but it is always nice to find the non-muscle car variant of a popular muscle car. The 1970 Cutlass Supreme was offered in three different body styles, a two-door hardtop coupe, a convertible and a four-door model known as the "Supreme Holiday Sedan".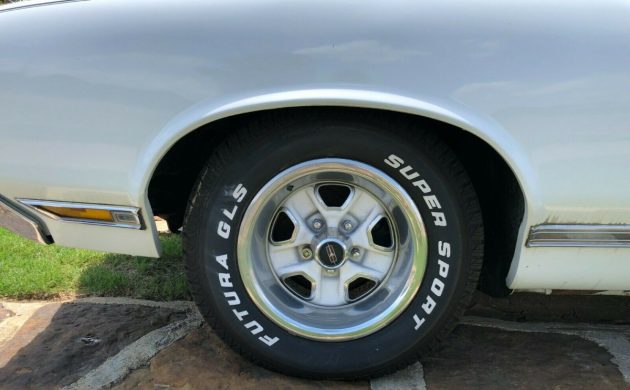 The listing for this example is essentially detail-less, so this will be an interpretive exercise. The mileage on this Olds is listed as 10K but not proclaimed as such so it is probably 110K but the car shows extremely well. While the Polar White finish has good depth, there are indications of a respray, not unusual for a 50-year-old car. There is no significant sign of rust or rot, though something is going on where the driver's side quarter meets the rocker panel. Whether there ever has been corrosion and it has been corrected, it is hard to say; the body and underside would require a close inspection to determine that. The fenders, doors, quarters, and bumpers do appear well-aligned however and probably free of any major crash damage. Of note is the rear bumper, it is a 442 styled piece with cut-outs for the tailpipes. It is a common component that can be purchased today from many different suppliers but it just doesn't look quite right without the chromed "trumpets" attached to the pipes. The Super Stock Wheels are always a nice addition to any Oldsmobile.
Under the hood is a 350 CI V8, 310 HP variety Oldsmobile engine. It appears to have had a distributor upgrade as well as an open-element air cleaner and chrome valve covers added. There is a brief statement claiming that this is a "great running car" but that's probably a matter for further inquiry. I'm not sure what the purpose of the goofy looking heater-hose wraps is all about, a subjective styling cue, I guess. As usual, there is a three-speed, Turbo-Hydramatic, automatic transmission in place. While not muscle-bound like a 442, this Cutlass probably moves out in style.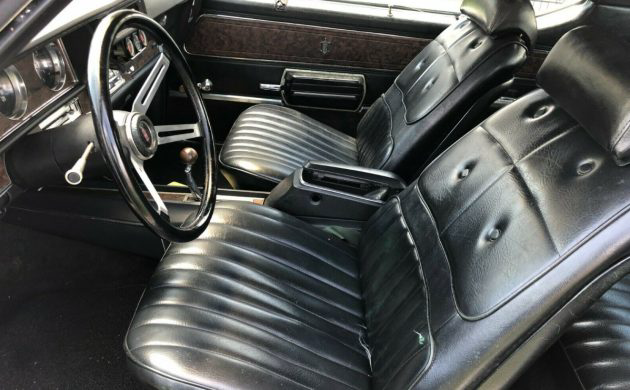 The interior is standard Oldsmobile all the way. It's in reasonably good condition, a testament to the quality of vinyl material that GM used in this era. Surprisingly, the rear seat appears to be more worn than the driver's perch, that's unusual though the driver's seat is not without a defect or two, all pretty minor though. Somewhere in its past, this Cutlass has had auxiliary gauges added to help out-idiot the idiot lights – good move. The carpet looks sound but the lower side of the driver's door card appears as if it has had a few too many run-ins with someone's size 13 kicks. Note the console, missing its lock/latch perhaps? Probably not too difficult to replace.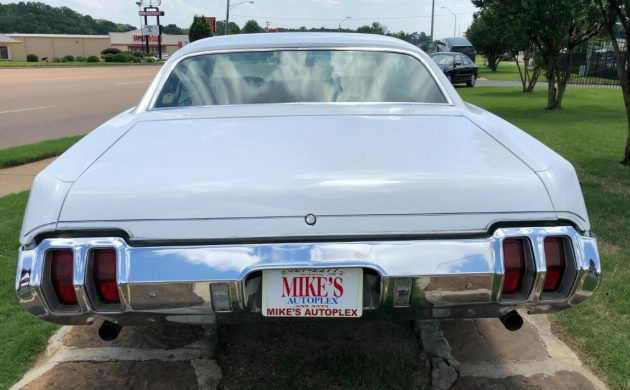 It's unfortunate that the seller hasn't tried promoting this Cutlass Supreme with a few encouraging words. That said, the included pictorial is pretty complete, though an image of the underside would be welcomed. This car looks great on the surface, inside and out, but I'd recommend a pretty thorough inspection for any prospective buyer. While not the value and power of a 442, this Cutlass Supreme does offer some of the feel and sharp appearance for a small part of the going 442 tariff; a nice substitute, don't you think?