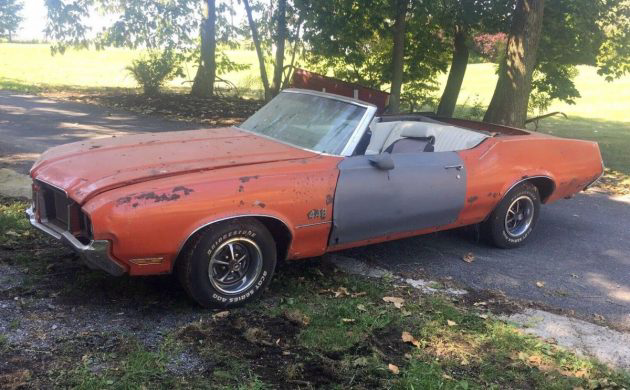 OK, so is it 4 barrel carburetor, 4-speed transmission, and two exhaust; 400 CI, 4 barrel carburetor and 2 exhaust or something else entirely? Whatever, it doesn't really matter because in the '60s and early '70s the 442 was Oldsmobile's go-to hot rod and everybody knew one when they saw one regardless of the 442 definitions. And while we are at it, here's a 1972 convertible version, located in Chambersburg, Pennsylvania and available here on eBay for a current bid of $6,350, no reserve, fifteen bids tendered so far.
The Olds 442 was introduced in 1964 as their entry into the "A" body, mid-size high-performance line-up, competing with Pontiac's GTO and later on, Chevrolet's SS 396 Chevelle and Buick's Skylark GS (Gran Sport). By 1972, the 442 was available with a standard, low performance 350 CI V8 engine or a 455 CI V8 that provided quite a bit more grunt. And no, they didn't have to have a four-speed manual transmission, they came initially with a two-speed automatic and later a 3-speed Turbo-Hydramatic automatic.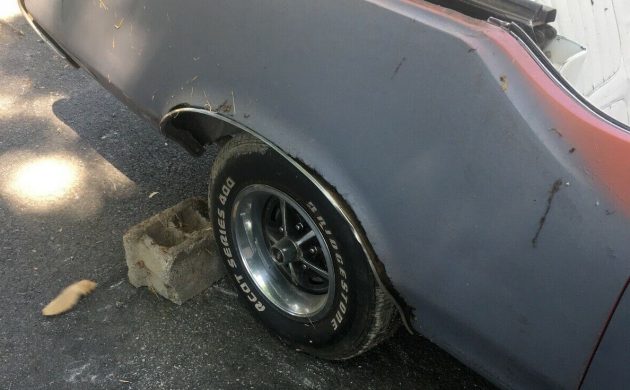 Our subject 442 is a desirable convertible body-style but it's a bit rough around the edges. The seller tells us that he found it in a barn and there is some rust on the underside and in the trunk. The doors and trunk lid have been replaced but the top fabric is missing. If you cruise the pictures, you can tell that the rust runs way beyond the trunk and underside, it's making an appearance in the fenders and quarters too. None of this is unusual for this vintage "A" body, it's just something to manage. Got a dent or two to fix as well.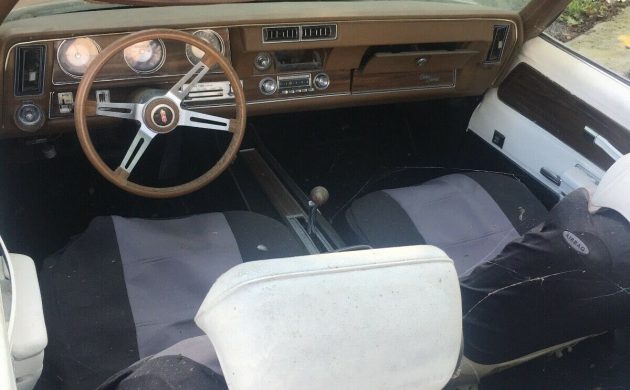 The interior appears to be in fair shape. There are some funky seat covers that are probably hiding the worn-out originals but the carpet, dash, instrument panel, console and steering wheel look pretty good. Considering that this is a convertible and the seller tells us that there is rust on the underside and the existing rust that is observable, I'd check the floors out carefully. Crusty floors aren't a fatal problem, they can be replaced with correct style originals or patched with fabricated panels as I did to a '66 Impala convertible years ago. It turned out well and wasn't hugely expensive.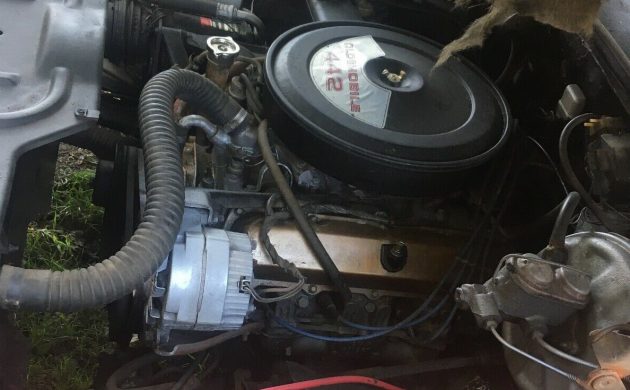 Under the hood is a non-running "Rocket" 350 CI V8 engine good for 180 net HP. The seller claims that while the engine does not run, it turns freely (I've encountered a substantial number of these "doesn't run but turns freely" circumstances lately!). Nothing else is said regarding the engine; the images present show what appears to be a stock, original engine so hopefully the non-running situation is something minor. Oldsmobile V8 engines are generally very durable and make, or can make nice power. Gears are courtesy of a three-speed automatic unit.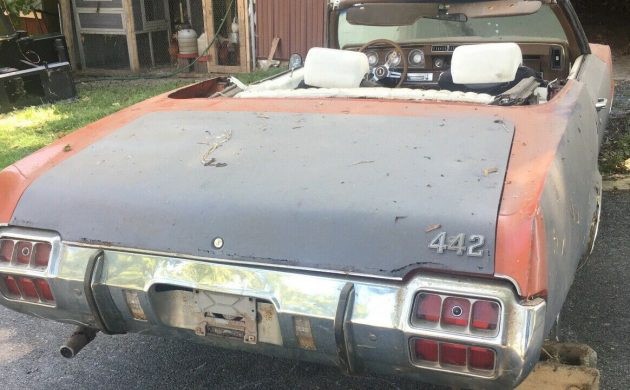 This 442, or maybe a 432 (4 barrel carburetor, 3-speed transmission, and 2 exhaust) is a very desirable model, body style and year. Oldsmobile's popularity has not waned in-spite of the fact one hasn't been built new since 2004. As with so many similar examples, if you take this one on as a project, how far will you have to go to build a drivable and presentable car? What do you think, are you game?