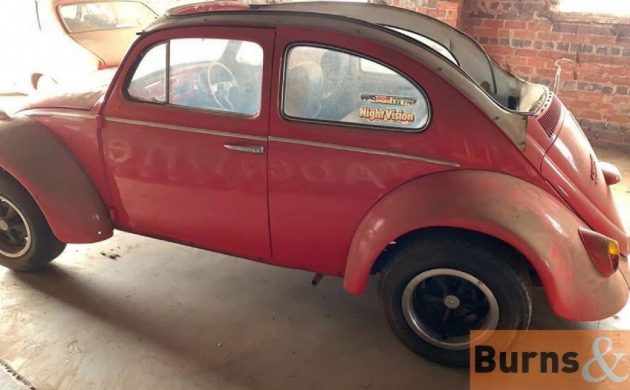 Some sheds will produce more than a single pleasant surprise, and that seems to be the case with this VW Beetle Cabriolet. It was found hidden away in a shed in West Wyalong, New South Wales, Australia. This is the same shed that produced the 1973 Torana LJ GTR that I recently wrote about in this article. It isn't clear how long the Beetle has been sitting for, but the coating of dust suggests that it has probably been a while. It is now being offered for sale, so you will find it listed here at Burns & Co Auctions. Bidding has reached A$1,300 in what is a No Reserve listing.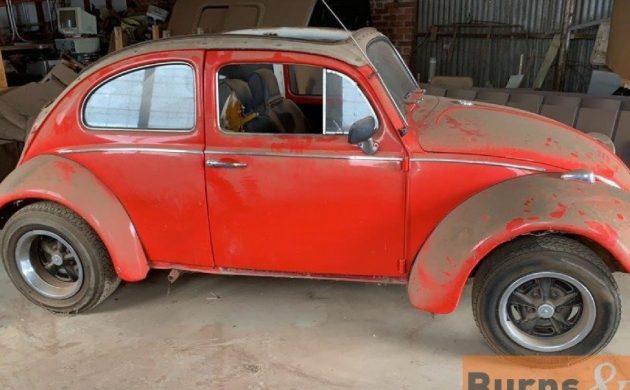 The seller is a bit vague on the model year of this Beetle, and this is not uncommon. Australian produced Beetles were very different from those built elsewhere and didn't receive many of the upgrades that were common in other markets. They list the vehicle as being either a 1968 or 1969 model, but I think that it might be older. The VIN plate is difficult to read, but I believe this to be a 1966 model. I can see a few features on this car that had disappeared by the time that 1968 rolled around. The vehicle does appear to be mostly complete, and the panels seem to be straight. What can be seen of the red paint peeking through the layer of dust has a pleasing shine to it. There are no visible signs of rust, but there is no information provided on the state of the floors or the frame. The storage environment appears to be very dry, which might have saved the VW from the ravages of tin worm. A few pieces are missing, like the running boards and bumpers, but the remaining trim and the glass appears to be in good condition. I can say for sure that this is not a factory car, because VW Australia never produced a Cabriolet version of the Beetle. This is an aftermarket conversion that appears to have been completed to a reasonably high standard. The top itself seems to be missing, so a replacement may need to be custom made to suit the car.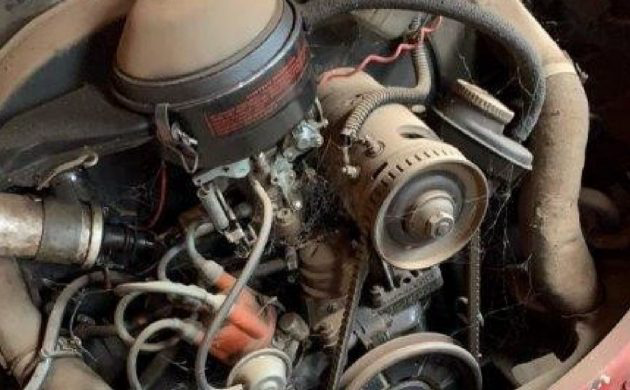 Lifting the hood reveals another area of the Beetle that has the seller scratching his head. He states that it is his understanding that what occupies the engine bay is a 1,500cc flat-four engine. Once again, a bit of detective work leads me to believe that this is actually a 1,600cc engine, which produced 57hp in its prime. This power found its way to the rear wheels via a 4-speed manual transmission. It appears that no-one has attempted to coax the engine back to life, so it isn't clear whether it even turns freely. However, these engines are as tough as old nails, so if it does turn, then it could be surprisingly easy to breathe new life into it. Beyond that, we do know that the car features 4-wheel drum brakes and that the original wheels and hubcaps have made way for some significantly wider steel wheels with trim rings.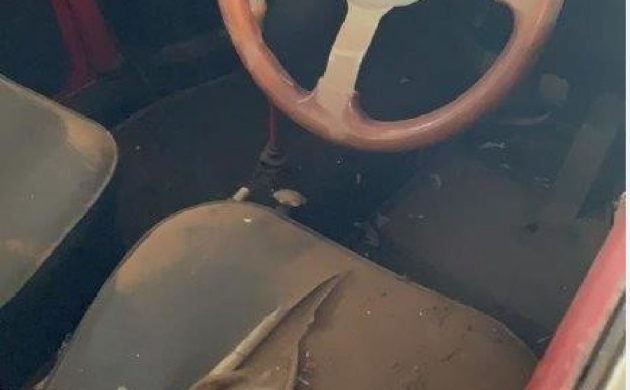 The interior of the Beetle is going to need someone to lavish some TLC on it because it is looking pretty tired. The seats are from a later Beetle and will require new covers. It features custom door trims in plain black vinyl, and whether these go or stay will be a matter of personal preference. The carpet looks like it might be okay, but it is hard to be entirely sure from the supplied photos. The radio is missing from the dash, and a custom panel insert has been made and fitted to the dash to the right of the speedometer. This houses a tachometer, but I would probably change the insert so that it was more in character with its surroundings. An aftermarket wood-rimmed wheel has been fitted, and this actually appears to be in good condition. It needs a new center cap, but I suspect that one from a manufacturer like SAAS might fit okay.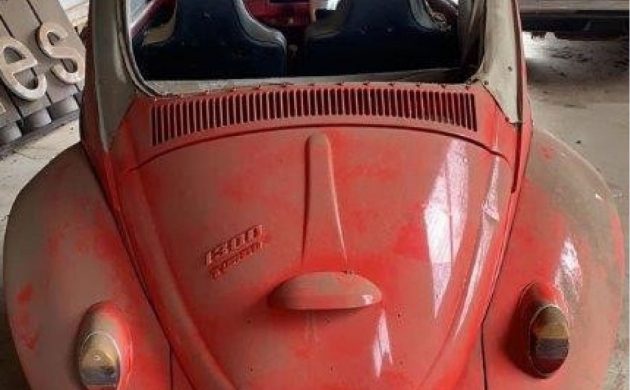 This Volkswagen Beetle Cabriolet demonstrates the sort of battle that the company faced in the Australian market. To satisfy tariff requirements at the time, the company aimed for 95% local content in their products. They managed to achieve this goal with the Beetle following massive expenditure on plant and equipment. Their problem was that the sales volumes weren't there to justify the outlay. Japanese manufacturers were beginning to gain a foothold Down Under, and their offerings were generally more modern and cheaper than the Beetle. The VW factory was geared to producing 50,000 Beetles per year, but sales volumes barely reached 35,000 cars. This meant that the money wasn't available to introduce the styling and mechanical updates that would have aligned the Australian Beetle with the rest of the world. As time passed, the Australian Beetle's development continued to lag further and further behind its overseas siblings. When the last Australian-built Beetle rolled off the production line at Clayton, Victoria, in March of 1968, it was little changed from those cars that had been produced in the early 1960s. From that point on, Beetles were imported in CKD form, and the Australian Beetle was made extinct. This one is an interesting car, and it isn't the first that I've seen with this style of Cabriolet conversion. Australian-built Beetles have a strong following, and there is no apparent reason why it couldn't be worth A$20,000 or more if it were totally restored. That means that if you are an Aussie who is on the hunt for an interesting project car, then maybe this car deserves a closer inspection.