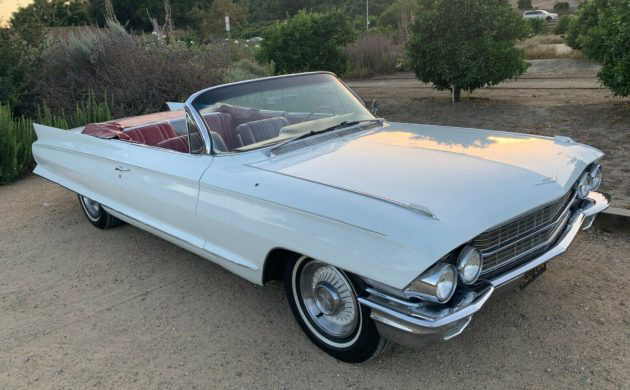 Subtle and efficient. These are just two of the many words that have almost certainly never been used to describe a Cadillac from the 1950s or 1960s. Owning one of these classics was a declaration to the world that you were a success, and that you were rewarding yourself for it. This 1962 Cadillac Convertible is a tidy survivor that is ready to be enjoyed immediately. There's still plenty of warm weather in the offing, so why not take the opportunity to hit the road in an American icon? It is located in San Clemente, California, and has been listed for sale here on eBay. The response to this automotive giant has been incredible. The auction opened at a mere $500, but there was no doubt that it was never going to stay in that vicinity. There have now been a total of 107 bids submitted, which has pushed the price along to $19,001. The reserve has been met, meaning that that luxurious cruising experience is only days away for the Cadillac's next owner.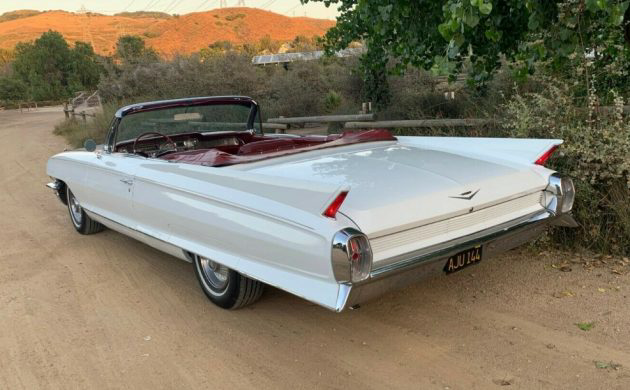 The owner of the Olympic White Convertible is candid about its overall condition. He clearly states that it is not a trailer queen. The paint has the sorts of nicks and marks that can accumulate during years of active duty. However, it still presents well and holds a beautiful shine. The Black Convertible top is original, and the owner states that it hasn't been raised very often. As you will see in the last photo in this article, it looks to be tidy and tight, with no signs of any rips or tears. The rear window is clear and free of any faults, which is also true for all of the glass. The external trim and chrome also present nicely. However, this is not a Cadillac that is free from faults. There is some bubbling in the rockers. These bubbles aren't severe, but it is hard to tell whether these are mere imperfections in the paint, or whether it is the onset of rust issues. The Cadillac has spent its life in California, so hopefully, it isn't a significant problem.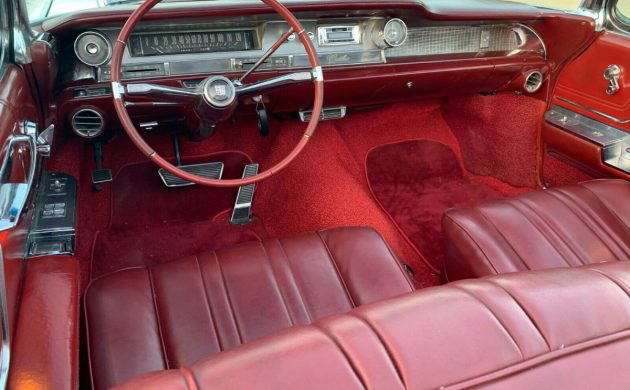 It's hard not to like the interior of a Cadillac from this era, especially when it presents as nicely as this one does. I've examined the supplied photos carefully, and there aren't many problems to address. The fit of the carpet is slightly odd on the transmission tunnel, but this should be able to be pushed into place with relative ease. I think that there might be some scratches on the door of the glove compartment, but this could also be some form of reflection. The leather upholstery on the optional bucket seats and rear seat appears to be flawless. There are no apparent problems with the remaining upholstery, while the dash and pad also present well. There is a more modern radio fitted into the dash that will allow the buyer to hook up their iPhone. However, the original radio is included in the sale. The Convertible comes equipped with air conditioning, power windows, power seats, and cruise control. The cruise doesn't operate, as it requires a new cable. The A/C also doesn't function, so that will require some investigation.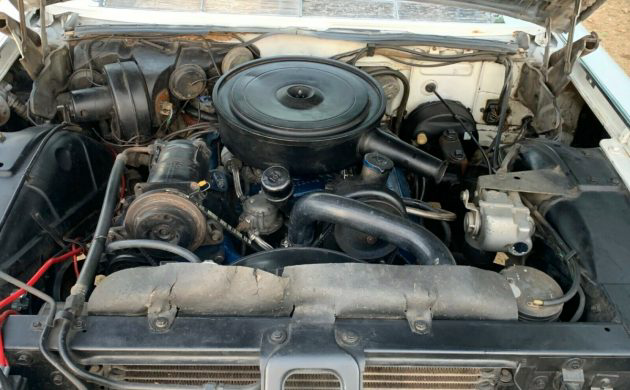 I initially mentioned the word "efficient" and how it wasn't part of the Cadillac owner's vocabulary. That was no lie because this Cadillac would offer fuel consumption in the region of 10mpg. Yes, the 390ci V8 is a heavy drinker, but for a cruising classic, that should not be a problem. That engine should pump out a respectable 325hp, which finds its way to the road via a 4-speed automatic transmission. Power steering and power brakes are also part of the package. Performance figures for the '62 Convertible do make interesting reading. At 4,810lbs, this is not a light vehicle. However, it could still devour the ¼ mile in 17.4 seconds. The good news with this Convertible is that it is in sound mechanical health. The fuel tank is new, as are the water pump and the tires. A replacement automatic transmission was installed 6-years-ago, while the vehicle also sports fresh motor mounts and a completely new exhaust from the manifolds back. The owner states that the Cadillac floats effortlessly down the road. He also says that if someone wants to inspect the car or go for a test drive, he is happy to oblige.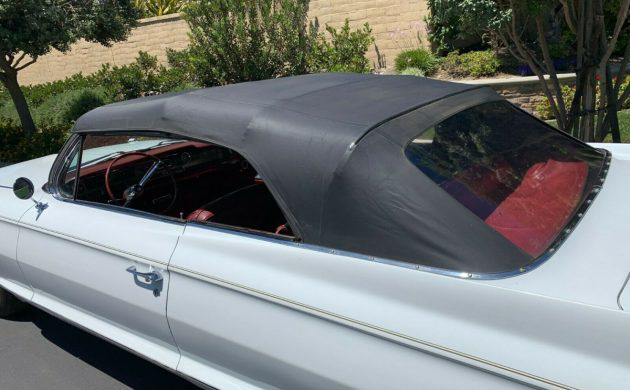 I have quite an eclectic taste in cars. While I have a strong affection for small vehicles that hold their own on twisting roads, I find it hard not to be attracted to this 1962 Cadillac Convertible. It is a classic that made a statement when it was new, and that message hasn't diminished over the intervening 58-years. Cadillac sold 16,800 Convertibles in that model year, which made it a sales success. Many have succumbed to rust issues over the years, but this one looks to be an excellent vehicle. Spotless examples can very easily top $40,000, although $50,000 or more is not out of the question. With that fact in mind, it is easy to see why the bidding on this car has been so frantic. The truth is, I'd probably bid if I had the money. I like it that much. What about you?