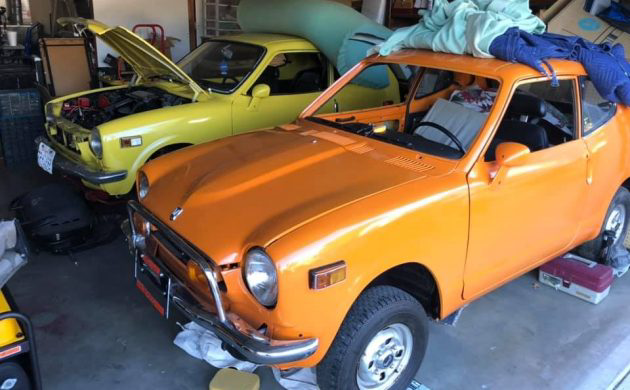 Until the early 1970s, Honda was known in the U.S. for their motorcycles. 2-wheel riding became more and more popular, helped by advertising campaigns like "You Meet the Nicest People on a Honda." They started dipping their toes in the 4-wheel market in North America with the sub-compact N600 and Z600, a sedan and coupe, respectively.  You don't see these cars very often today because they were considered just econoboxes at the time — to be driven and discarded. But in Sacramento, California, this seller has two of the Z editions from 1972 that he's toying with selling as a pair. They're presented here on Facebook Marketplace for $9,500 as a package deal.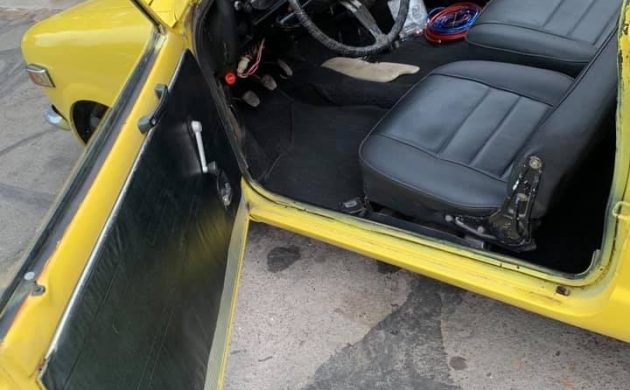 Post World War II cars made in Japan had to be small because of the growing population and an under-developed roadway system. In fact, from the 1950s to the 1970s, there were rules in place on how long, wide and high cars could be by class. This also helped keep cars affordable so more and more Japanese could afford their first automobiles. The N series sedan was launched in 1967 and this would be the basis of the cars that finally made it to the States. They had a transversely mounted motor (to help keep the engine bay small) with its 4-speed gearbox mounted in the oil sump. Ride quality was delivered by way of MacPherson struts with an anti-roll bar in front and a leaf-spring dead axle in the back.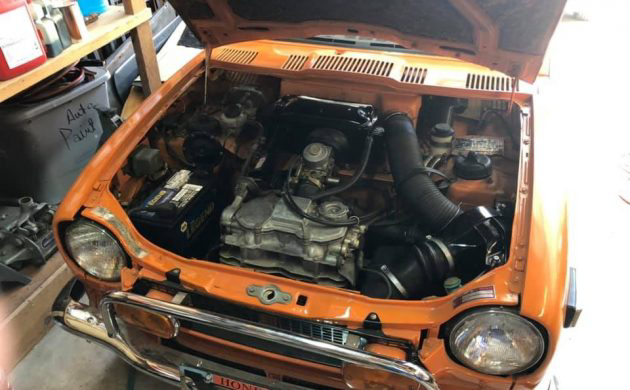 By the time these cars got to the U.S. they were powered by a 600cc (hence the car's name) SOHC, all-alloy, iron-cylinder-lined version of the 4-stroke motorcycle engine from the 1960s. It was rated at 36 horsepower and was air-cooled, to minimize the part count and because Honda the Man was sold on air-cooled engines. While Honda would market both the sedan and coupe in North America, the Kamm-tailed unit known as the Z600 or Z Coupe here is what drew the most attention and is what the seller has collected a pair of.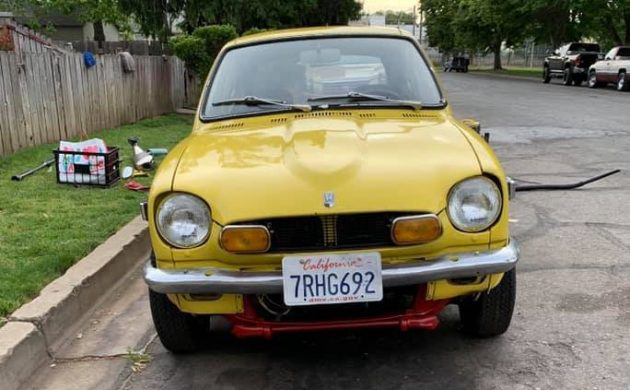 We're told the seller wants to keep these cars together as a pair because they are rare and expensive to find parts for today. That would suggest he considers one to be a viable road vehicle and the other a donor car, but that's not quite how the automobiles are described. Let's break them down by color to keep things straight:
1972 Honda Z600 (Orange)
The seller tells us this one is 99 percent complete, although not fully assembled (such as the interior), but almost everything on it has been rebuilt. It was a running car when he first brought it home. It starts now but needs a tune-up and some carburetor work (he has a carb kit for it). You could swap the carb from the Yellow car as an interim measure. The seller has the original title, bill of sale, warranty card and even more from when it was first delivered in Mechanicsburg (Pennsylvania?). Today, the car is titled in Washington State. We're told it alone could be worth $14,000 when completed.
1972 Honda Z600 (Yellow)
This one doesn't sound as though it's as far along as its stable mate. The body is mostly good except for a little rust, but the paint is nice and shiny. The interior is in great shape and could be moved to the Orange car if you were looking to make one good one out of two. The exhaust system and brakes are new, but it needs a crankshaft to run again. It sports an $800 set of mag wheels and the seller suggests with a little work this could be a $4,000 car. Both these estimates are the seller's, not figures verified with Hagerty or its contemporaries.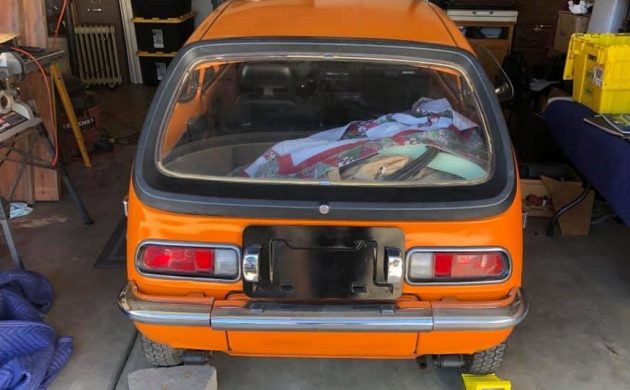 Do you remember when these little cars first went on the market here about 50 years ago? The N sedan could be had for $1,495 and the Z Coupe for $1,630. To put things into perspective, Ford was selling the much bigger and Falcon-based Maverick at the time for $1,995. The Honda weighed just 1,350 lbs. versus the Maverick at 2,900. Even the more recent but tiny Smart Car tipped the scale at 2,350 lbs. So, these Honda 600s were really, really small cars compared to what U.S. buyers were accustomed to. BTW, I think they were sold at selected Honda motorcycle dealerships until there was enough traction for the company to begin developing a dealer network for automobiles. It all started here.