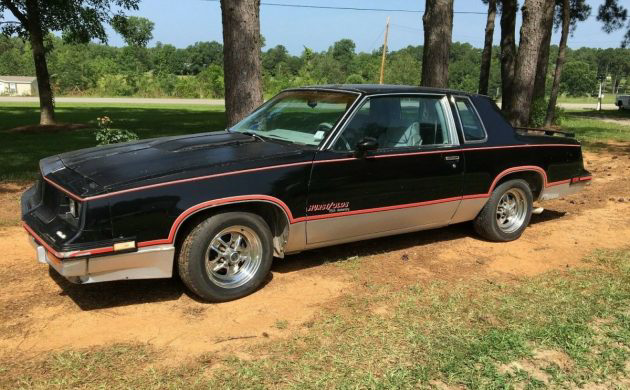 To celebrate the 15th anniversary of the Hurst/Olds, Oldsmobile and Hurst rolled out a special edition for 1983, known today for their Hurst Lightning Rod floor shifters. These cars shared their bodies with the Cutlass Calais/Supreme, and came only painted black with silver rocker panels, chrome 15" wheels, power hood bulge and rear spoiler. This is one of 3,001 cars built, but the interesting twist is that the seller says it was first sold to Hertz to use in their Rent-A-Racer program. That's an interesting place to find a low-production automobile. Other than the original paint showing its age, this car looks to be a decent survivor. It's located in Sarasota, Florida and available here on eBay where the bidding has reached $9,200.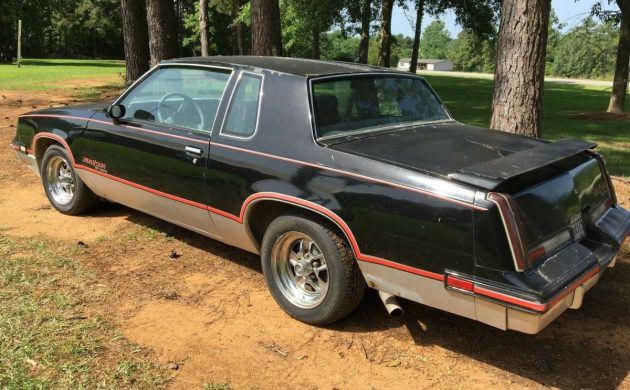 Besides the nearly 20,000 Olds Calais models built in 1983, another 3,000 or so were destined to become Hurst/Olds editions. For 1984, the car would see another 3,500 units built, with the black/silver paint scheme reversed for its second year. These cars would come with a Rocket 307 cubic inch small-block V8 that was treated to a few peaks and tweaks from stock. These changes would increase output from 140 to 180 hp. The motor was paired with a specially prepared TH200-4 automatic that came with the Hurst Lighting Rod shifters, giving it three separate levers. Taken from left to right from the driver's seat, the first lever traversed through the P, R, N, O/D, and D positions. The driver could move into manual shifting with the other two levers, if so desired.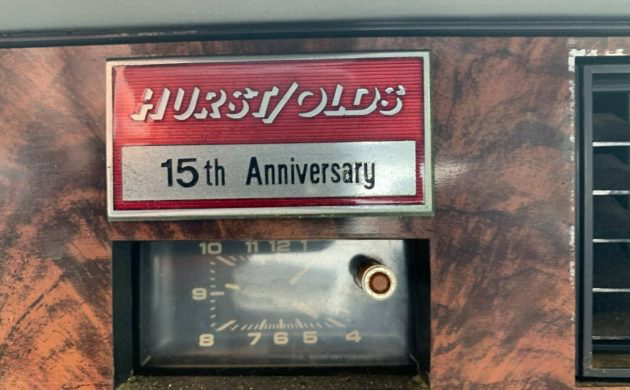 The Hertz Rent-A-Racer program was born in 1966 after Carroll Shelby convinced the rental car company to add some of his specifically equipped cars to their fleet. The idea here was that both Shelby and Hertz would profit from the additional traffic this would generate for both companies. So, 1,000 GT350H Mustangs were built as rental cars that Hertz customers could use at a premium. Over the years, the program has gone beyond Fords, including such cars as the Corvette, Jaguar XK-Es and the AMC AMX. We're told that at least this one Hurst/Olds entered the program, although I haven't found any sources that support that.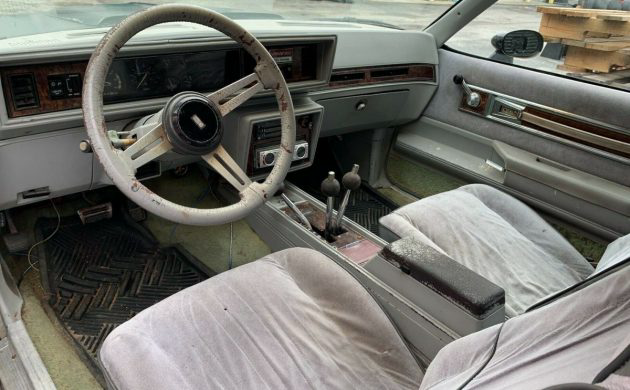 At more than 78,000 miles, this Hurst/Olds looks original although worn. There is no evidence of rust or body damage to deal with, but the black paint is worn on all upward facing surfaces. The grey portions look good, but some of the stripes are also needy. We're told the underside of the Olds is solid and the photos provided agree with that. The interior isn't a slam-dunk because there are some form-fitting covers on the front bucket seats, either hiding something or there to prevent them from harm. We understand that the majority of these cars came with red interiors, so this one is different with grey instead.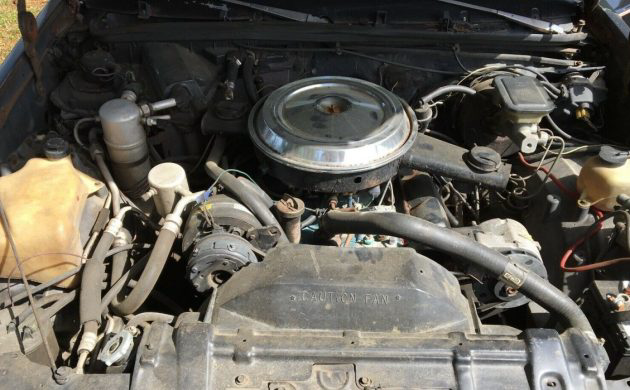 We're told the motor runs well and we assume the unique multi-lever shifters work the way they're supposed to be. Hagerty tags the resale value of these special cars at between $10-30,000 depending on condition.  A good cleaning and a new paint job could result in a reasonably-priced car for Cars & Coffee. Chances are, it would be the only one like it there.