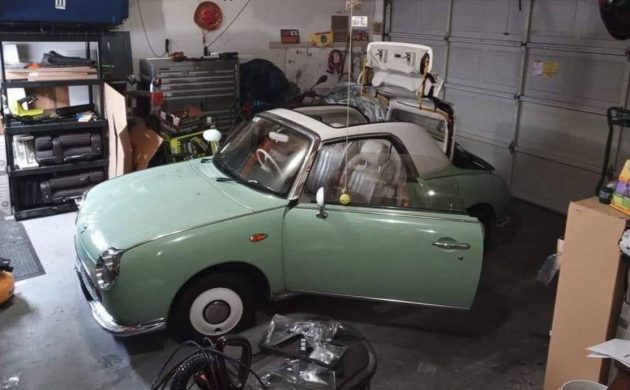 The Nissan Figaro was a fixed-profile, right-hand-drive small convertible that was built for the home market for a single season, 1991. Exterior colors were limited to one for each of the four climate seasons: Topaz Mist (Autumn), Emerald Green (Spring), Pale Aqua (Summer) and Lapis Grey (Winter). The seller's version is something of a world traveler – originating in Japan, shipped to New Zealand and finally residing in the U.S. Pacific Northwest. Located in Tacoma, Washington, it's available here on craigslist for $13,600. Thanks to our Pat L. finding yet another interesting car to explore!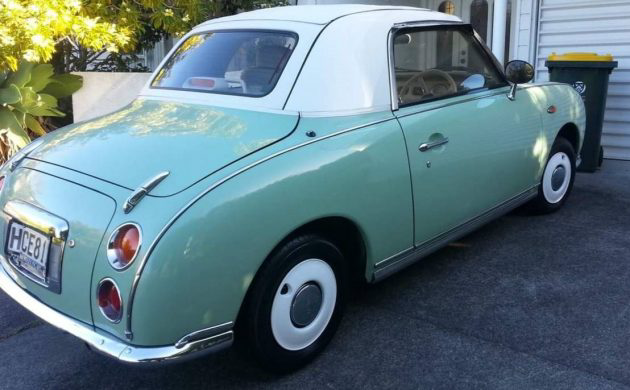 This one-year wonder was inspired by other fixed-profile drop-tops such as the Vespa 400, Citroën 2CV, Nash Rambler Convertible "Landau" Coupe, and the Fiat 500. The upper side elements of the Figaro's bodywork remain fixed, while its fabric soft top retracts along with a solid panel with a defroster-equipped glass rear window. The Figaro was manufactured by Aichi Machine Industry, a special projects group they used for several ventures. It was based on the Nissan March platform and, as such, used a front-engine/front-wheel drive layout. Just over 20,000 of the little cars were built early in the 1990s.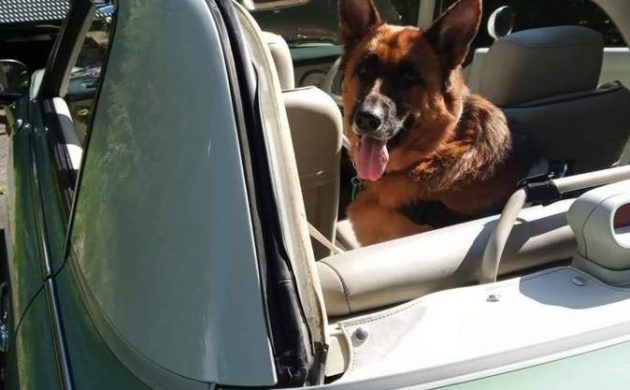 The seller's Emerald Green edition is one of about 5,000 made in that color. We are told he ordered it from Japan (new?) and had it shipped to him in Aotearpoa, New Zealand. After running around over there for some time, he brought it to the States and settled in Seattle. We understand these cars were so hard to come by new that you had to enter in a lottery to have your name drawn to buy one. It came with a 1.0-liter turbocharged engine that put out 75 in the horsepower department and 106 lb.-ft in torque, all with an automatic tranny. These little rockets were capable of breaking 100 mph, although I would consider that risky riding on 12-inch wheels and tires.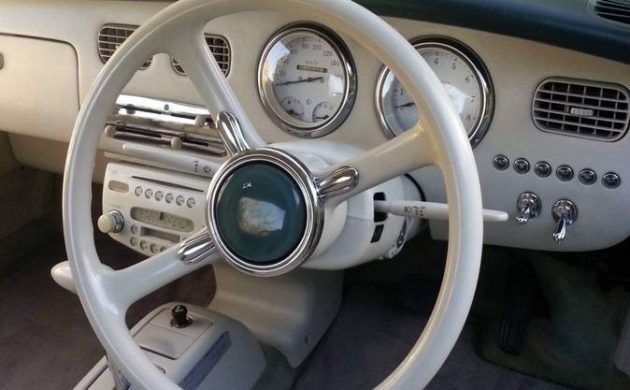 All these cars had the steering on the ride side. This one has 86,000 mikes on it (reads 113k km on the odometer). Recent enhancement or repairs include a new convertible top and a fairly new battery. The power steering has a small leak that will need tracking down and the emergency brake is "sticky" to apply. The dash has some wear and tear, and the seller knows a source that can fix it (in England!). Besides having goodies like power windows and leather seating, it also has air conditioning, but the seller says it has never been used. The retro-ish AM/FM radio must be tuned to U.S. frequencies if you want to listen to some tunes.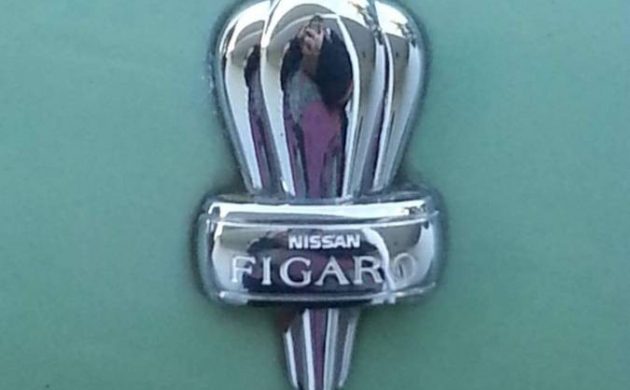 Despite not being an officially U.S. released car, Hagerty has tracked resale values and places top dollar at $30,000. One in Good to Excellent, which likely describes this car, which narrows the field to maybe $16,000. If you missed your chance in the lottery in 1991 to buy one, here is your chance!