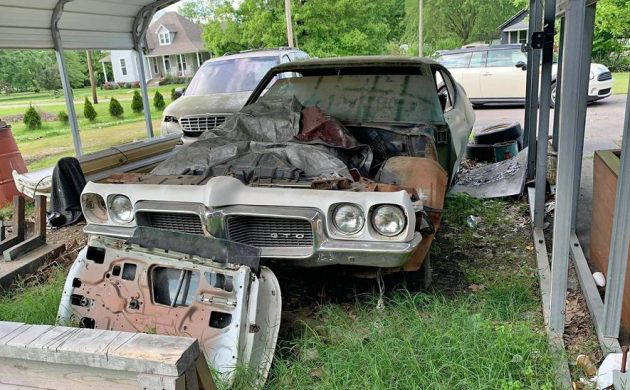 If you're a Pontiac fan and are looking for GTO or LeMans car or parts, a visit to Obion, Tennessee might be in order. There you'll find together in one place a 1968 GTO, a 1970 LeMans and a 1974 GTO, all in various stages of disassembly and surrounded by a sea of parts and components. We believe the seller is looking to trade all or some of this for a good Chevrolet truck as no specific prices are mentioned. This ensemble is available here on Facebook Marketplace for you to sort out.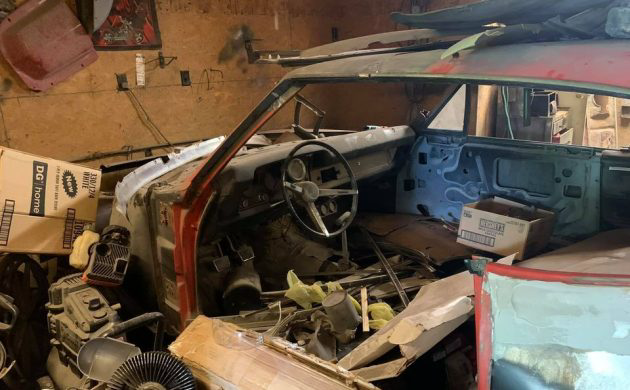 It's always interesting to ponder how a group of cars comes together in one place. In this case, three Pontiacs ranging from 1968 to 1974 in various states of change. We don't know if any of them are complete, but given the range of items that is shown, anything is possible. If you need parts for an existing project, you could hit the seller up and see what he would let that widget or this gadget go for. Or if you want a whole car, find out what may be included with each one.
1968 Pontiac GTO
This one looks to have been red or orange at some point, lots of stuff have been removed and there is plenty of primer present on the body. Part of the the front clip is missing, and the interior is being used as a storage bin. We're told this GTO has a 400 V8 with a 4-speed and that it actually runs, but how is that possible? The listing party says the top needs to be cut off – was turning this coupe into a convertible the original plan? Two noses are available for this car, one rubber and one chrome. The seats and upholstery may still be around.
1970 Pontiac LeMans
It looks to be a light green mid-size that has been cut on in the back and we're told the seller has all its parts including the hood (I think). A LeMans could be equipped in nearly the same fashion as the GTO, which could be helpful when buying an insurance policy in the early '70s. Perhaps this one has a 350 engine as the listing suggests taking its motor and the one from the '74 and coming up with one good engine.
1974 Pontiac GTO
This was the one-and-only year the GTO was based on a Ventura, which made it a Nova-based muscle car when the genre was winding down. A 350 V8 was the biggest engine you could get by that time in a GTO and this one's might serve as a way to make the LeMans whole again. We're told all the GTO emblems are present, but we're don't know if that refers to this car or the '68.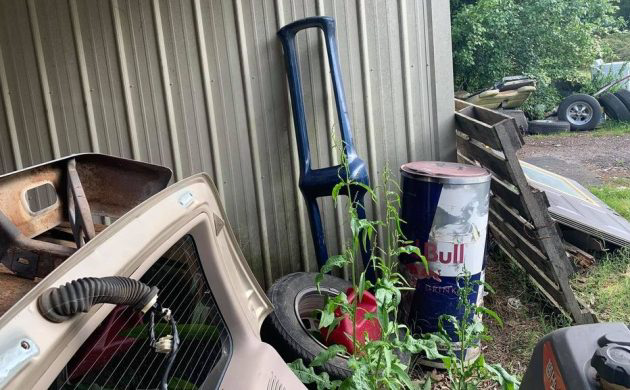 When you sort this out, it looks as though all or part of this "collection" could be yours if you have a good Chevrolet truck you're willing to exchange. Or have cash money. But figuring out what item goes with which car will be half the fun. It will take a lot of vision to see any of these three cars back on the road again, but perhaps there is enough surviving components to help a fourth car to live on.