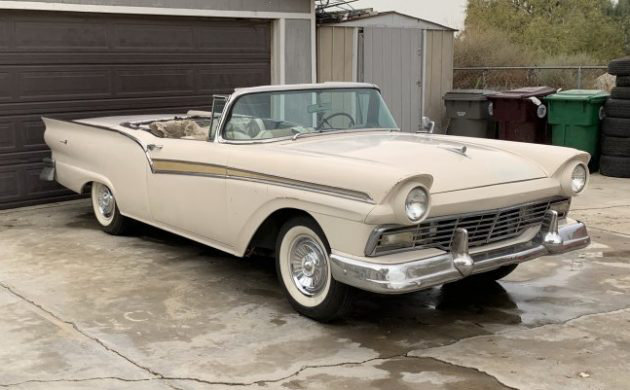 Sometimes a car maker comes up with an idea, puts it into production, and a market either materializes or it doesn't. Ford's marketing gurus probably did their homework on the retractable hardtop concept, which had only been done one other time with a production vehicle. That work led to the creation of the Skyliner for 1957-59. Perhaps due to lower-than-expected sales, there was no 1960 Skyliner. This first-year edition has been in storage for 25 years and taken out for a spin every now and then. The interior, at a minimum, will need restoring. It's available in Indio, California and here on AutoTrader for $25,000. Thanks to Larry D for bringing this find our way!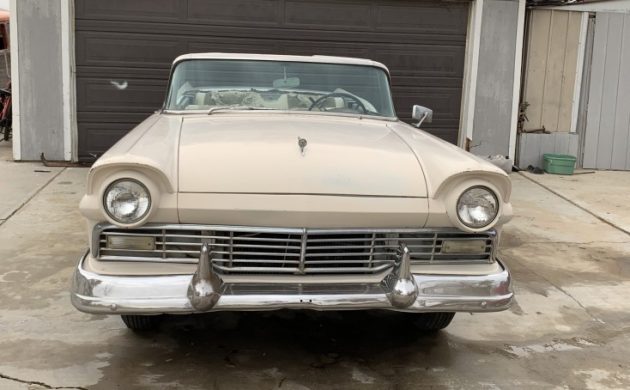 The heart of the Ford Skyliner was its retractable roof mechanism, marketed as the "Hide-Away Hardtop" which was unique to this vehicle. You couldn't get a Continental, Lincoln, Mercury, or Edsel fitted that way. The only other time the idea was put into prior production was with the 1938 Peugeot 402 Eclipse Decapotable. The Skyliner's retractable top operated through a complex mechanism that folded in the front of the roof and pulled it in under the rear decklid. The top used several reversible electric motors, lift jacks, a series of relays, multiple limit switches, a bunch of solenoids, assorted locking mechanisms for the roof and two more for the trunk lid. On top of that, more than 600 feet of wiring ran everywhere.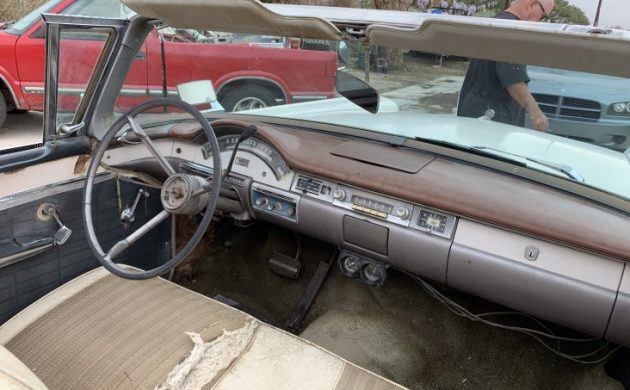 Once retracted, the top left little available trunk space, so if you went shopping with one of these with, the back seat is where your groceries and other stuff had to go. 1957 sales were the car's strongest, at 20,766 units. Demand fell by a third to 14,713 in 1958 and even fewer at 12,915 for 1959. That added up to just over 48,000 cars before Ford pulled the plug.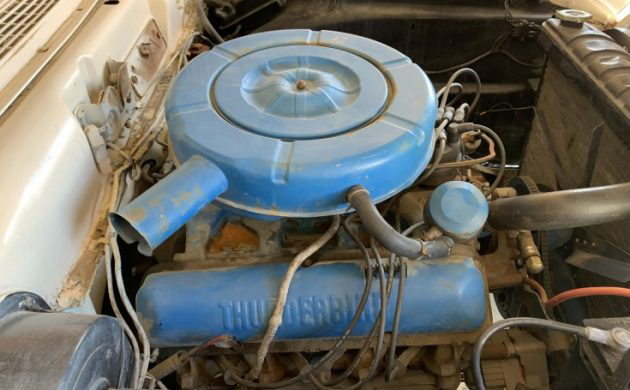 The body and paint look nice on the seller's car, but oddly no photos are provided of the car's key selling point, the top. Perhaps it works fine, and it was an oversight by the seller. These mechanisms were known to be finicky, at least with earlier models and repairing one of these things had to be a nightmare for the mechanic at the dealership who drew the short draw. The interior, on the other hand, looks kind of rough. The front seat will need new upholstery, the door panels are lacking, and a new carpeting set will be required.
We're told this car comes with a 390 cubic inch V8 under the hood, and the Thunderbird lettering on the valve covers tends to support that. But it must not be the original engine as you couldn't go bigger than a 312 V8 in 1957. In fact, none of the three years of production were offered with anything over 352 cubes. The seller is throwing in an extra 272 V8 and automatic transmission that we're told will need rebuilding. Perhaps that drivetrain is what was in the Skyliner originally.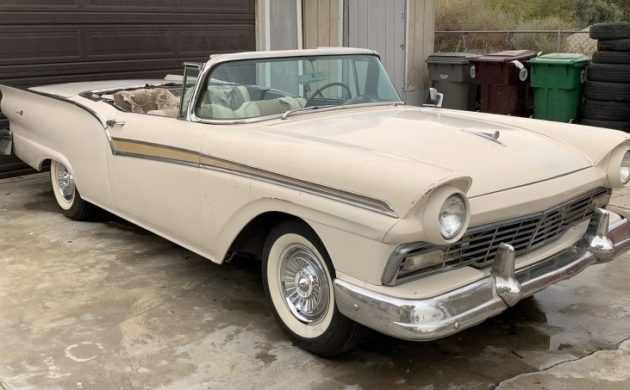 Whoever buys the car will get some extras in terms of a set of doors, front grill and a spare 4-barrel carburetor and manifold. The Skyliner name wasn't new to Ford customers in 1957. It had been used on those models with the clear acrylic glass roof panels (Crown Victoria) in 1955-56. Online pricing guides suggest that premium survivors and restored editions can go for $45-60,000. So, if the mechanical elements of this car don't need help and the retractable top works properly, this could be an interesting car to flaunt to the Cars & Coffee set.