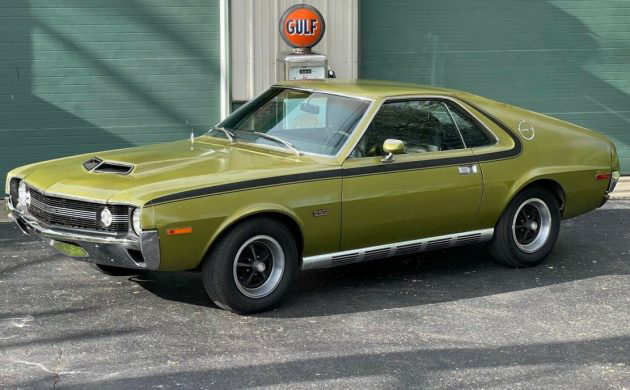 The AMC would serve as a 2-seat GT-style companion to the Javelin when AMC joined the pony car wars for 1968. Even by AMC standards, its production numbers were low but helped the company try to shake its image as a manufacturer of old people cars. In three years of manufacture as a standalone model, they wouldn't build 20,000 of them, including this 1970 edition equipped with Go Pack and other conveniences that could make it number less than 100 in copies made. Located in Greenfield, Indiana and mostly used for car shows, this AMX is available here on eBay where the bidding has reached $27,500.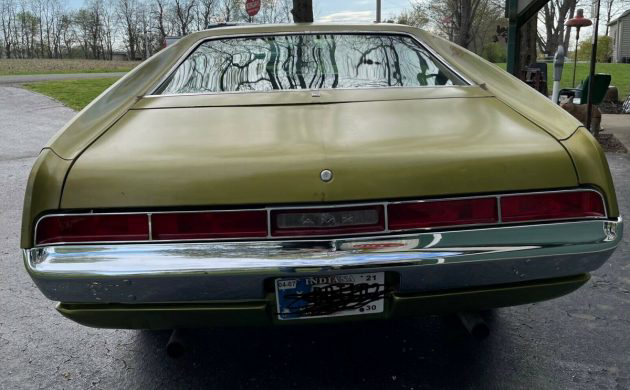 Before being integrated into the Javelin line (due to low sales), the AMX was built between 1968-70. The latter had the lowest numbers, just 4,116 cars out of 19,134. Of that, 1,632 had the 390 cubic inch V8 with a factory 4-speed. This car was equipped with the "Go" package (aka Go Pack) which in 1970 included the 390 motor. According to AMC archives, 340 of them came with Twin Grip posi-traction, 823 with tilt steering and 98 had black leather seating. The latter could include the seller's 1970 AMX.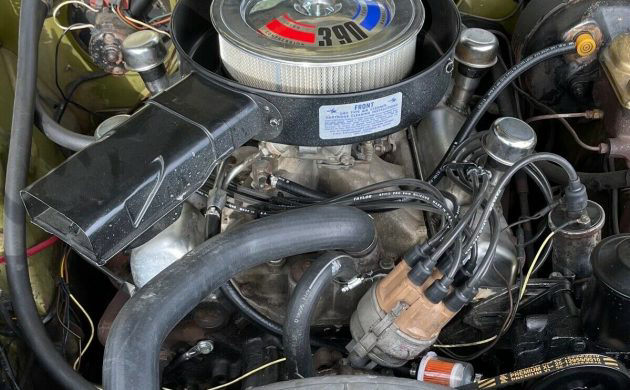 With the muscle car movement in full bloom, AMC cooked up the Go Pack to help it better compete with the Big 3 and their campaigns like Dodge's "Scat Pack" or Ford's "Total Performance." It was available first in 1968, but was not included with a code as part of the VIN or metal door tags. Only an original window sticker, factory order form or a build sheet can authenticate whether a car is equipped with Go Pack. The contents of the Go Pack would vary from year to year and would usually include the biggest of engines with 4-barrel carbs and dual exhaust, heavy-duty cooling system, power front disc brakes, uprated suspension, "Twin-Grip" limited-slip differential, wide-tread tires on five-spoke wheels and racing stripes. For 1970, the ram-air intake hood was only available as part of the Go Package. The Go Pack was listed on the '70 AMX's window sticker with the copy "PP390V,TG,DB,HDC,HP,E70/WHT LETTR" and an add-on charger of $371.41.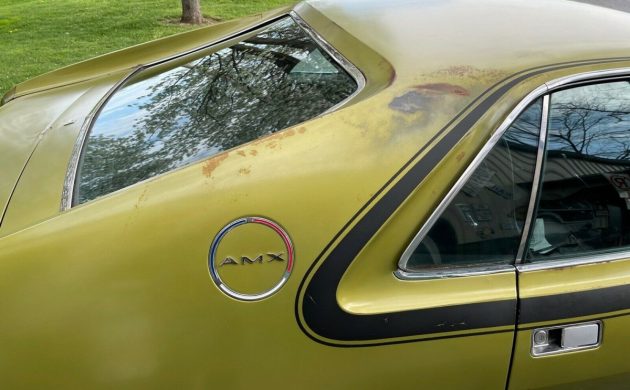 This '70 AMC is said to carry its original Lime Gold paint and looks good until you get up close. There is fading, discoloration, and a little surface rust on both roof panels near the AMX logo. Probably nothing to worry about right away but something to keep an eye on. Both bumpers have been re-chromed, and the grille and taillights replaced with NOS. The weather stripping is all original, but the seller is sending along a new set should the buyer want to replace it. The interior looks extremely nice as it should given its new leather seat covers and door panels. This car came with factory air conditioning, but the compressor and condenser were removed (and coming with the car).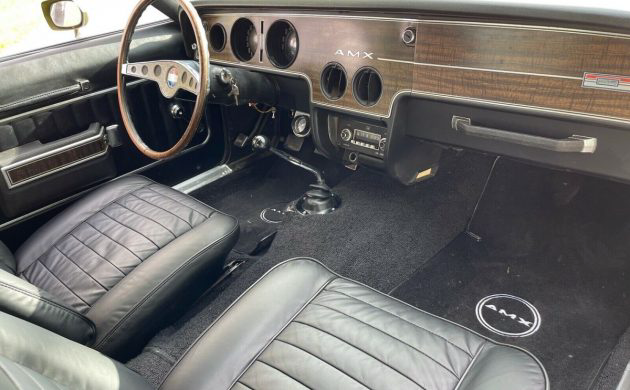 Mechanically, this AMC product is said to be in great shape with no mention of problems with the 390 and 4-speed. It had ram air induction which was also removed and saved. The car will come with some extra parts, including more A/C apparatus, power steering pump, extra taillights, and a few other items that you won't immediately need. This Go Pack car has had some work done recently, including a new clutch, pressure plate and flywheel turned; hoses and belts; and a new battery. Looks like a turn-key that the seller is letting go only because he has too many cars (there is such a thing?).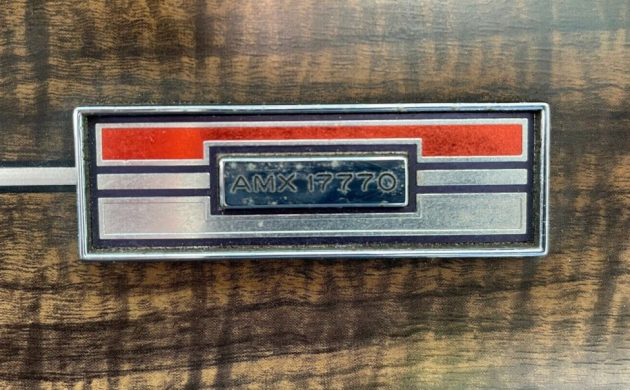 Even though the car is said to have 142,000 miles on it, this AMX has been clearly well-kept over the years. The AMX had a plate on the dashboard signifying the production number of the car and this one says 17770, which means it was close to the end of the line for 1970 and the standalone model. For someone into the AMX, this is probably one of the most desirable editions to have given all its features and equipment. Which suggests that the top resale estimate of $38,000 by Hagerty might get tested by this one, even though its not in Concours condition.