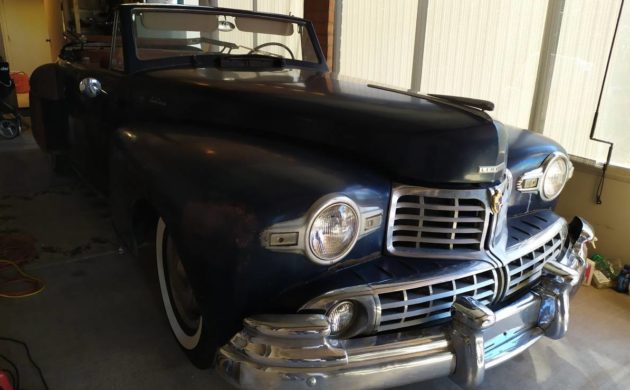 Pre-war Ford Motor Company products got a long lease on life. As late as 1948, Ford and its subsidiaries, Mercury and Lincoln were still working off of designs and architecture that dated to 1940 or 1941. World War II had been a significant interrupter to the domestic auto industry but for an understandable reason. The year 1949 would bring about a big change but let's take a look at the last of the era with a 1948 Lincoln Continental convertible, located in Green Valley, Arizona and available here on craigslist for $17,000. Thanks to Ikey H. for this tip!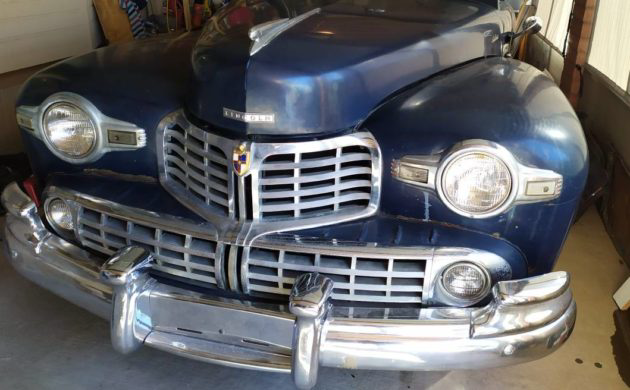 Get a good look at that grille. Some might say that it is a face only a mother could love, while others may suggest that it belongs in a Stephen King novel. It's just fantastic! All of that metalwork, a style that we haven't seen in many years and probably won't again. The images available for this Continental don't reveal a lot of close-up detail but the primered rear quarters are evidence of either bodywork or parts replacement. The seller states that this Lincoln needs complete restoration but what can be spied looks reasonable. I'm a bit confused by the "nearly 95% complete" claim, I guess that means complete with 95% of all of its parts. The issue is that 95% complete and "needing total restoration" doesn't really jibe. The convertible top fabric is not installed but the new fabric top comes with the car and it's sitting in the back seat. OK, I think maybe a 3% deduction for that item so now we're talking 92% complete.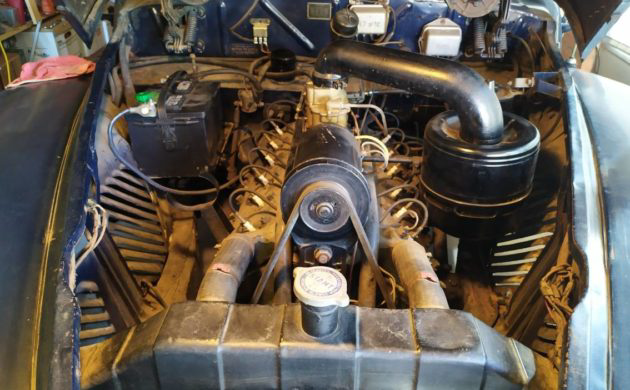 Under the hood is a Lincoln 292 CI, V12 flathead engine that develops 120 gross HP. It develops it, however, when it's actually running which this example doesn't. The seller is very forthright, "does not run, must be transported by truck". Underhood looks very complete as in nothing is missing so hopefully, the non-running problem is something minor; hopefully.  OK, there's another 7% demerit, now we're down to 85%. As for gear changing, this Continental had Lincoln's only choice, a three-speed manual transmission with overdrive. Interesting to note is the fact that a Lincoln was not available with an automatic transmission until 1949 and then only by using GM's Hydramatic, a unit that Lincoln's arch-nemesis, Cadillac, first employed nine years earlier.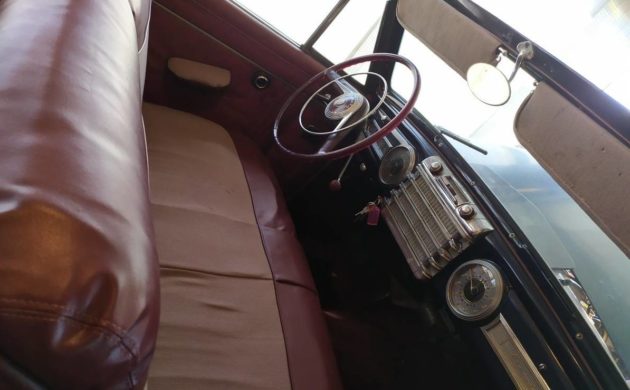 The interior of this Lincoln looks great. The dash, instrument panel, seat material, door cards and what can be seen of the carpet look either well preserved or replaced – no reference is made by the seller. This is a 72K mile automobile so age would be more of a factor than use. Again, I'm wondering about the "needing total restoration" comment, the detail and accompanying images don't send that message.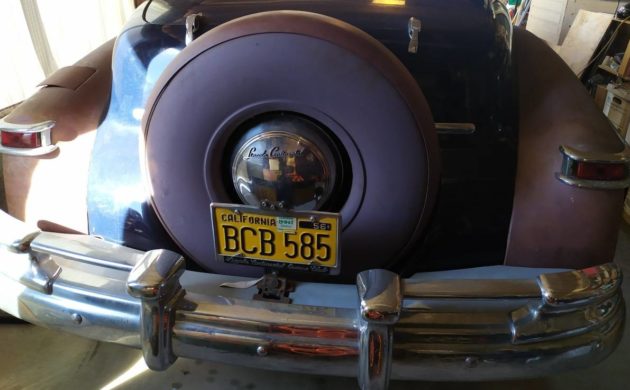 It is possible that the seller has a very high standard for this Continental and the concept of having a nice driver may not be something that is acceptable, thus the comment regarding the perceived needed restoration. Or maybe there are some real serious issues underneath in terms of structural integrity. Or maybe the engine is in worse shape than anticipated, we won't know without asking questions. This example seems like a great starting point towards ownership of a fine post-war convertible; interested parties should make inquires. That said, I'm sticking with 85% complete, what do you think?