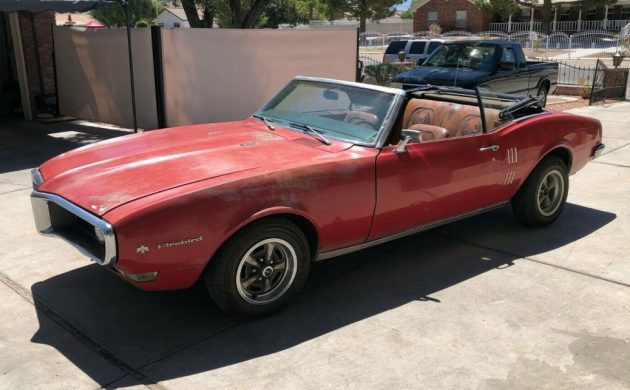 While it is a mostly original survivor, this 1968 Pontiac Firebird Convertible does come with one feature that sets it apart from its peers. Whether this custom touch appeals to potential buyers is open to debate. However, if the next owner isn't taken by it, then reversing the change would be an easy and relatively inexpensive undertaking. The Firebird is located in Las Vegas, Nevada, and is listed for sale here on eBay. It seems that this is a classic that ticks the right boxes with a few people because 26 bids have pushed the price along to $11,200. However, the reserve hasn't been met.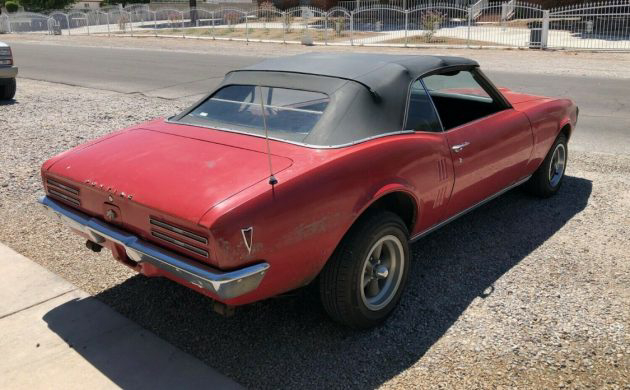 The Solar Red Firebird is said to wear all of its original paint. It is looking quite tired, and a cosmetic restoration would seem to be on the cards. The panels sport a few dings and marks, but the Pontiac does seem to be generally straight. One massive positive with this car is its complete lack of rust issues. The owner supplies a decent set of photos in his listing. The underside of the floor has a light dusting of surface corrosion, but there is no penetrating rust to be found anywhere. The lower body extremities appear to be clean, and there's no doubt that a life spent in the dry Nevada climate has aided this car's cause. The Black convertible top seems to be in good condition, although the owner is quick to point out that this isn't a power top. The trim and chrome appear to be acceptable for a tidy driver-quality classic, as does the glass. The most glaring issue is the mismatched wheels, but addressing this will be an easy task for the next owner to tackle.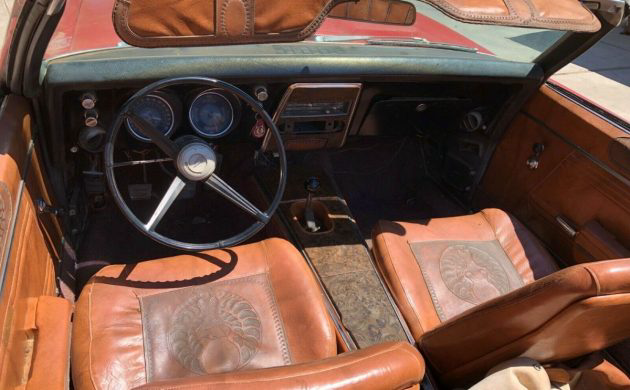 Now we get to the aspect of this Pontiac that sets it apart from your average Firebird Convertible. At some point during the 1980s, the original owner chose to treat the vehicle to a new interior. Not satisfied with an "off the shelf" package, it now features custom leather upholstery. This is Saddle leather, with contrasting embossed Dark Tan inserts. There is no doubt that some people are going to love this treatment, while others aren't going to be that thrilled by it. One thing is for sure, and that is that it is an interior that is sure to spark some interesting conversations. Some aspects of the trim are starting to look a bit on the tired side.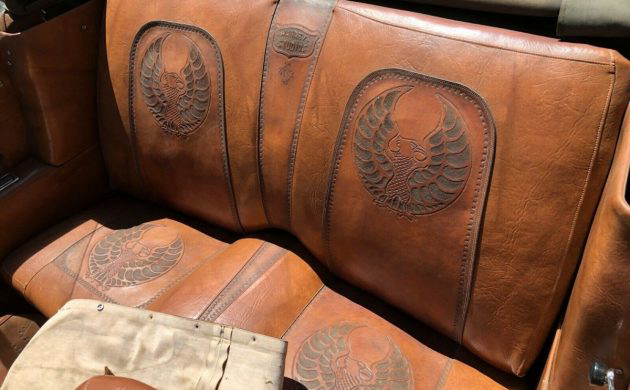 The seat covers are also slightly stretched, so it is going to require some attention, one way or another. A good upholsterer could potentially breathe new life into it, while new seat foam would also help. If the next owner isn't thrilled by the interior, then a trim kit might be on the cards. For an outlay of $1,800, this is an interior that could easily be returned to stock appearance. Beyond that, the rest of the interior is relatively tidy. The radio is missing out of the dash, but the dash and pad appear to be free from significant flaws. The console also seems to be in good condition, as does the wheel. A few loose wires are peeking out from under the dash, but fixing this should be the work of a few minutes.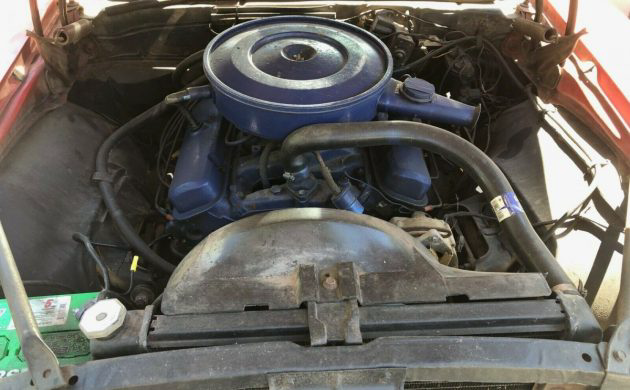 The Firebird is a numbers-matching car and features a 350ci V8, which is backed by a 4-speed manual transmission. Looking at the engine reveals evidence to suggest that it has been treated to a "rattle-can rebuild." There is overspray visible on the fuel filter, hoses, and hose clamps, while little care has been taken with some of the surface preparation. However, that doesn't necessarily equate to bad news. The owner says that the 350 starts right up and that the car runs and drives "awesome." He says that the 350 idles nicely and that the 4-speed shifts smoothly. This is a classic that would seem to be ready to be driven and enjoyed.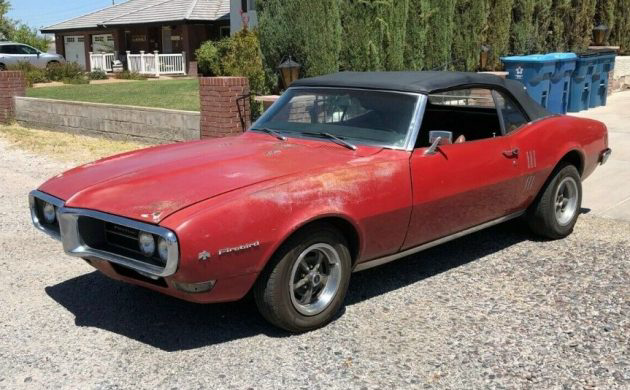 Leaving aside the custom interior trim, this 1968 Firebird Convertible has a lot going for it. The fact that it is a numbers-matching car that features a V8 and a 4-speed is a good starting point. When you add the fact that it features all of its original steel and is rust-free, you can see why bidding has been so strong. Restoring the interior to its original appearance, if desired, would not be a difficult or expensive proposition. Fully restored, this is a classic that has the potential to be worth an easy $30,000, although that figure could go a lot higher if the work is completed to a high standard. If you bought this Firebird, would you leave the interior as is? Alternatively, would a trim kit be top of your shopping list?