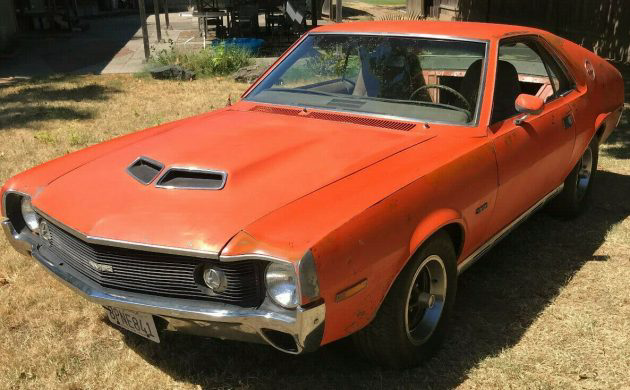 We've seen several AMX's pop up recently. And most of them have been either rusted out or wrecked. While this 1970 AMX isn't perfect, it looks to have a future that sadly the others do not. From its last model year as a standalone car, this '70 is a rare combination of engine/transmission and choice of factory color. Painted in Big Bad Orange, this AMX can be found in Citrus Heights, California, and available here on eBay with a no reserve auction sitting at $15,301.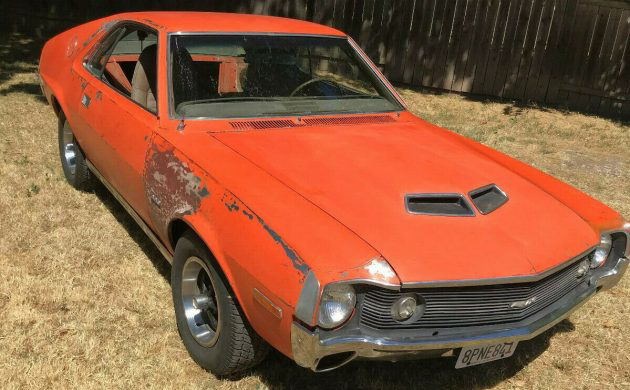 When AMC ventured into the pony car/muscle car business, they did it with two cars. First, the 4-seat Javelin that debuted for 1968 in the fall of 1967. A few months later, they rolled out the AMX, a shortened version of the Javelin that only had room for two people. While the Javelin could go from mild to wild, the AMX was intended to mostly just be wild. V-8 power was your only choice with the AMX and the 390 was selected by buyers two out of three times. Unfortunately, the AMX did not turn out to be a big seller for AMC, who needed to sell all the cars it could. So, production ended with 1970 at a little more than 19,000 cars produced in total, and barely 4,000 that final year.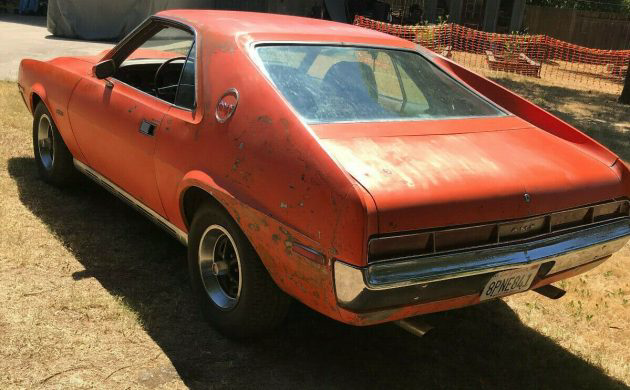 The seller's car has rarity on its side, among other things. Out of 4,116 AMX's made in 1970, just 747 of them had the 360 cubic inch V-8 with automatic transmission checked on the order form. Diving down further, only 122 AMX's were made that year painted in one of AMC's glow-in-the-dark colors, Big Bad Orange. So how many 360/auto/orange AMX's could there have actually been in 1970? 15 or 20 perhaps?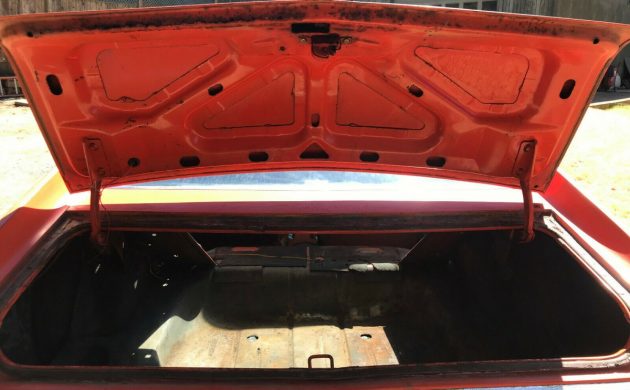 This AMX certainly does not qualify as rust-free, but most of that appears to be surface rust. The trouble spot looks to be the trunk lid and the seller is providing an extra with the deal. We're told the floors, rockers, trunk, quarter panels, etc. are pretty good. The seller is an accommodating fellow and includes quite a few undercarriage pics while the car is up on a lift. That being said, while the paint is original, we're also told that some bodywork was previously done on the driver's rear quarter panel and the passenger's front fender.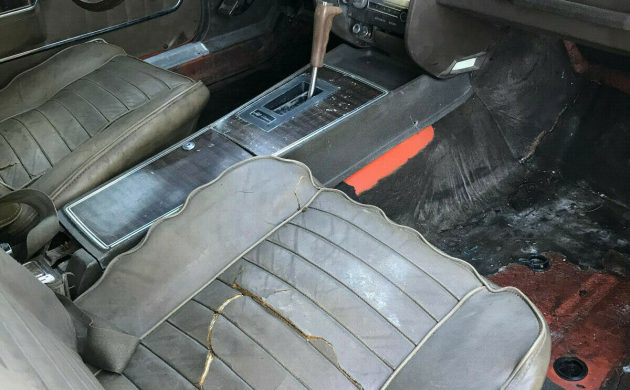 The interior is going to need an extreme home makeover, but that's to be expected after 183,000 miles. Considering the options list and engine/tranny choice, the original owner of the car may have preferred comfort over burnouts. It came with factory A/C (not working), power steering, power disc brakes, tilt steering, leather seats, and a console with original (non-working) AM 8-track tape deck (who still has some of those tapes?!). The buyer is going to have some electrical issues to sort out because the list of non-working items also includes head and brake lights, turn signals, side markers, gas gauge, wipers, speedometer, temperature gauge, and inside lights. I wonder if something has been nibbling on the wiring?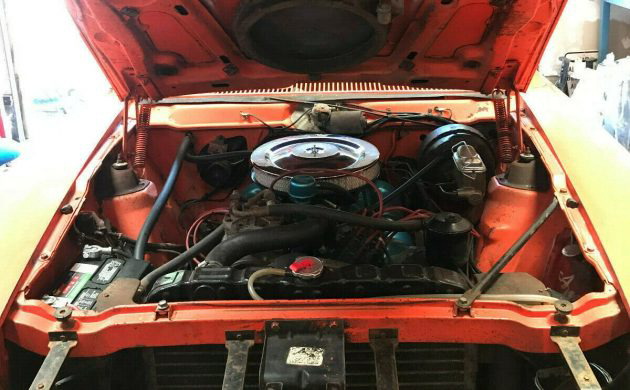 Mechanically, the picture gets brighter because several items have been replaced or attended to, starting with a rebuild of the engine. The others include a new windshield, battery and cables, water pump, alternator, fuel pump, starter, and brakes. The gas tank has been cleaned and pressure tested along with a new fuel sending unit. The radiator has been refreshed and fluids changed in the transmission and rear end. The tranny has a leak, however, at the shift shaft seal. When the engine was redone, some "go faster" stuff was done to it, including TRW pistons and a mild camshaft. The car came from the factory with Ram Air, but the air cleaner base for that system is missing. The tires are the May-Go brand, i.e. "may go at any minute" so plan to some new rubbers for the car.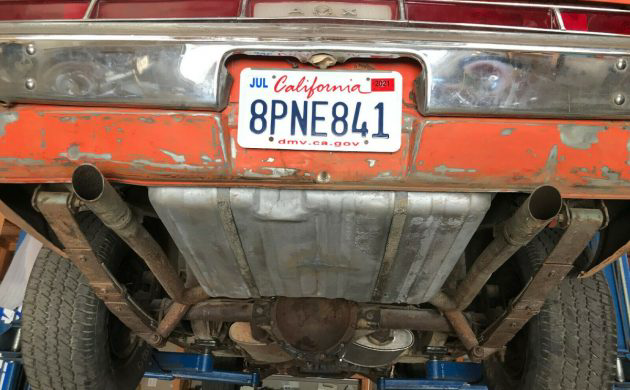 The bidders for this car apparently agree on its restoration potential as splendid examples can easily run mid-five figures. And low production numbers for this configuration of AMX no doubt add to the appeal. The bodywork, paint, and interior needs aren't huge obstacles and hopefully, the electrical issues are simple. If so, this can be a sweet car once again, complete with extra goodies like the owner's manual, protective maintenance ID card, California pink slip, and those blue and yellow license plates.